Groups visiting Birmingham this autumn can take part in a new reinterpretation of Captain Henry Morgan's world, navigating boats to a series of indoor islands to receive rum-based rations.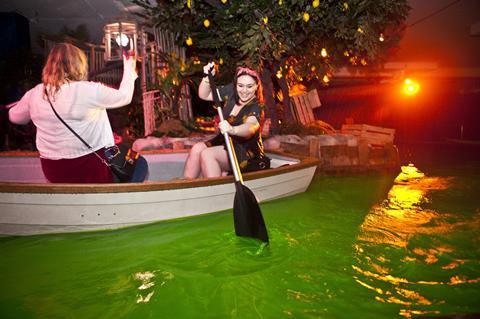 Described as an 'immersive theatrical experience', Lost Lagoon will run in the city centre from 26th September until 22nd December, offering fans an insight into how to make the best rum-inspired cocktails.
Groups will sail their boats along small indoor waterways to different makeshift islands, where different rums will be given out to make various drinks.
Following the route and the instructions provided, groups will then make their way to 'Captain Morgan's island lair', where they can enjoy their drink, made with the ingredients and recipes collected along the route.
"A rum-fuelled, swashbuckling adventure on the high seas."

Absolutely London
Some of the city's food operators will be on offer at the 'lair', as well as more immersive entertainment which is yet to be revealed.
The event is set to be bigger than the London-based Lost Lagoon that ran earlier this year, featuring more islands and more open water.
Lost Lagoon for groups
Groups can book onto the experience and have the options to book out an entire slot which is up to 48 people, although there is a maximum of four people to a boat.
There is also the option for a full buyout for the day, giving groups an exclusive experience.
Large groups will receive special discounted rates to the event although they have not yet been finalised.
"A fully immersive theatrical show with a plot inspired by the very real buccaneer Captain Morgan himself."

The Nudge
More about Lost Lagoon
The event is open on Thursdays and Fridays between 4pm & 9pm. It will be open between 1.30pm & 9pm on a Saturday and 1.30pm & 6.30pm on a Sunday.
Non alcohol drinkers are still welcome to take part in the experience which lasts between 45 minutes to an hour. Once out of the boats, guests are welcome to stay as long as they want.