Stoke-on-Trent's historic Spitfire is set to return to the city as part of a new multi-million pound extension at the Potteries Museum & Art Gallery.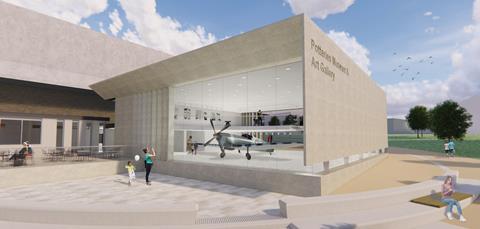 The glass fronted extension has been taking shape for the last year, and once the Spitfire returns, remaining work will be completed before the new attraction opens to the public this autumn.
As well as getting up close to one of Britain's most famous aircraft, the free-to-visit gallery will offer visitors a chance to 'pilot' a Spitfire and will reveal more about the story of the plane and its designer, Reginald Mitchell, who has close connections to the city.
For the last two years, the Spitfire - based on Mitchell's design - has been in a workshop 200 miles away in Kent, where aircraft preservation specialists have restored the plane to its former glory.
Returning in two sections, it will be reassembled by a team of RAF experts, with the gallery expected to open to the public in September as one of the region's top tourist attractions.
What to expect
The 3,800 sq ft gallery will feature glass walls at the front and back, so the public can see the plane lit up at night, and will not only showcase the plane itself, but also feature a simulator, allowing visitors to experience what it would have been like to pilot the aircraft.
Part of the gallery will also be used to project images about the plane that was built in 1945 and still has most of its original parts, plus more on its designer, Reginald Mitchell.
In addition to housing the Spitfire, The Potteries Museum & Art Gallery also has a statue of Mitchell just outside the main building.
The museum's café is also being updated with improvements to the walls, ceiling and new flooring as part of the work, while the public realm is being improved outside the gallery, as well.
For further details click here. Groups visiting the attraction must pre-inform the attraction of their visit.