The full cast has been announced and started rehearsals ahead of the West End transfer of Noises Off, following a successful run at the Lyric Hammersmith Theatre.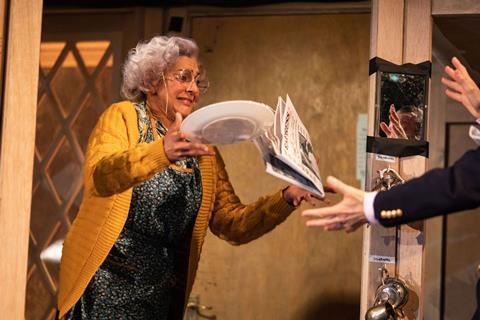 Michael Frayn's backstage comedy will open at the Garrick Theatre in London from 27th September, also coinciding with the playwright's 86th birthday.
Joining the previously announced Meera Syal (Beautiful Thing), Lloyd Owen (Cleaning Up), Daniel Rigby (BBC Two's Eric & Ernie) and Simon Rouse (Hangmen) will be Sarah Hadland, Richard Henders, Lisa McGrillis, Anjli Mohindra and Adrian Richards.
The four previously announced are reprising their roles from the show that ran in Hammersmith. Groups of ten or more qualify for special rates.
The production will run in London until 4th January 2020 and is directed by Jeremy Herrin, with design by Max Jones.
About the show
After Michael Frayn watched The Two of Us in 1970 from the wings, also at the Garrick Theatre, he found that the goings on behind the scenes were funnier than on stage, spurring him on to create Noises Off.
The performance takes its audiences behind the scenes with a company of actors touring their 'tatty' production of Nothing On, in a 'tribute to the unpredictability of life in the theatre'.
More about the new cast
Sarah Hadland will play Belinda Blair, 'starring as Flavia Brent'. She is best-known for her role as Stevie in the BBC comedy Miranda.

Richard Henders has appeared in Company and will play Frederick Fellowes, who is on the run from the Inland Revenue in the role of Philip Brent.
Lisa McGrillis (Mum) will take on the part of Brooke Ashton, demonstrating 'unwavering commitment' to the role of Vicki.
Anjli Mohindra plays the stage manager Poppy Norton Taylor. Her credits include the BBC's Bodyguard and Wild Bill, and Adrian Richards (The Actor's Nightmare) plays the handyman Tim Allgood, 'desperately trying to keep the curtain up.'