New images of The Lion, The Witch and the Wardrobe, which has made its West End premiere, show colourful scenes, extravagant costumes and iconic characters.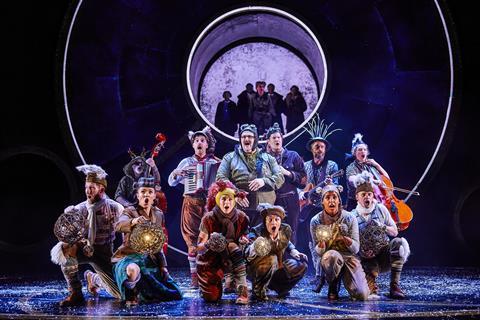 The Lion, the Witch and the Wardrobe, which has been seen by a quarter of a million people on its recent 19-week tour of the UK and Ireland, will play a strictly limited season in the West End through until 8th January, 2023.
Joining Samantha Womack (who played Ronnie Mitchell in EastEnders and recently played the lead role in The Girl on the Train in the West End and on tour) as the White Witch are Ammar Duffus as Peter, Shaka Kalokoh as Edmund, Robyn Sinclair as Susan and Delainey Hayles as Lucy.
The cast also includes Scott Brooks (Mr Pope and Fox Trot), Rachel Dawson (Miss Chutney, Blue Badger and Spirit of the Moon), Oliver Grant (Mr Wilson, Schrodinger, Red Squirrel, Head Cruel, Aslan Puppeteer and Resident Director) and Chris Jared as Aslan.
The show promises to transport the audience into the enchanted kingdom of Narnia. Join Lucy, Edmund, Susan and Peter as they wave goodbye to wartime Britain and embark on the most magical of adventures in a frozen, faraway land where they meet Mr Tumnus the faun, talking beavers, Aslan (the noble king of Narnia) and the coldest, most evil White Witch.