Groups will be able to go into Private Apartments, normally off-limits to visitors, as part of new tours at Blenheim Palace in Oxfordshire.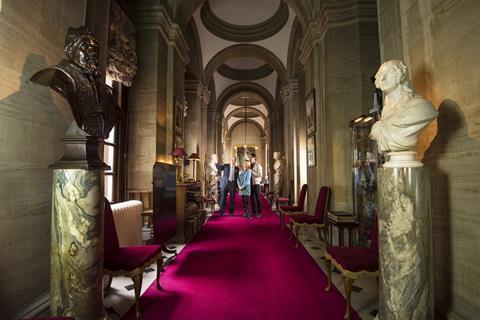 Blenheim Palace, the birthplace of Sir Winston Churchill, is inviting visitors to peek inside the Private Apartments, which have been lived in by the Dukes and Duchesses of Marlborough for more than 300 years.
The new guided tours, which are suitable for groups, will be running until Spetember 2019. Normally off-limits to visitors, the Private Apartments will provide insight into family life at the palace with a mix of antiques, tapestries and artworks on display for visitors to see.
Details of the tours
The tours are split into two types: an Upstairs Tour and a Downstairs Tour.
The Upstairs Tour takes visitors on a viewing of the rooms where the Marlborough family, and their guests, have stayed over the past three centuries. Previous guests have included Queen Mary, King Edward VIII and Wallis Simpson, as well as Cecil Beaton and Yves Saint Laurent.
Visitors will gain insight into the daily routine of a guest at Blenheim Palace, both past and present to find out what has changed and what remains the same. You'll find out why the dressing rooms have single beds in them, what the difference between breakfast arrangements for ladies and gentlemen as well as discovering the quickest way to get a full laundry basket from the top floor down to the laundry in the Undercroft.
The tour includes the Duke's Entrance through the Undercroft, Duke's Dressing Room and Bedroom, Bow Window Room, Smoking Room, Duchess' Sitting Room, and the Nursery, among other rooms.
There is a climb of the spiral staircase with 75 steps involved, therefore the tour is not accessible for wheelchair users and others who may find difficulty with the steps.
The Downstairs Tour gives visitors a glimpse into the lives of palace staff over the centuries. Household staff were essential to the aristocratic way of life and visitors can wander through the network of corridors and see the areas which are still in use by palace staff today, including the kitchen.
You'll learn about the bell board, a series of bells connected to various rooms around the palace to alert the butler, housekeeper and their teams to the requirements of family and guests; all different sizes so that skilled butlers and footmen could identify the bell by its tone without having to look.
Rooms on the tour include The Kitchen, Laundry Room, Butler's Pantry & Boot Room, Billiard Room and China Room.
New this year, the Wine Cellars are also now available for viewings where you'll see private collections of wine and learn how it is selected, stored and served.
For more information, visit www.blenheimpalace.com.