The iconic Singin' in the Rain will embark on a UK and Ireland tour starting in January 2021, following its season at Sadler's Wells.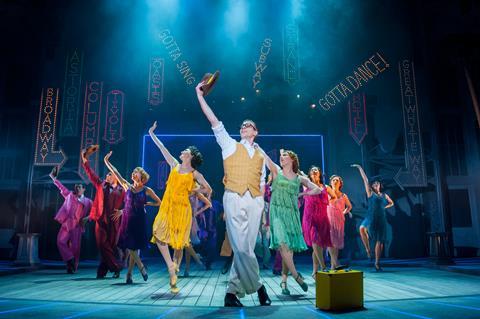 Singin' in the Rain - a production that first opened at Chichester Festival Theatre - will arrive at Canterbury's Marlowe Theatre on 21st January, before travelling to the likes of Nottingham, Leeds, Edinburgh, Aberdeen, Southampton and Bradford, with more towns and cities to be announced soon.
The production team that worked on the original piece at the Chichester Festival Theatre have reunited for the show: director Jonathan Church and choreographer Andrew Wright.
About the show
Based on the 1952 romantic comedy musical film, Singin' in the Rain is set in late-1920s Hollywood, and focuses on the lives of three performers who are trying to adapt to the transition from silent films to talkies.
Don Lockwood, a silent film star, and Lina Lamont, his co-star and on-screen romantic interest, are two of the major characters who must try and adapt to working with sound, despite technical difficulties and bad singing voices.
Did you know?
The show goes through 6,000 litres of water (the equivalent of two rhinos).
More than 100 metres of heavy duty rubber hose is used.
The water on stage takes 15 minutes to drain, after which it's recycled, cleaned and used again.
The water is heated to 37 degrees to ensure performers are kept comfortable.
The tour follows a five-week season at Sadler's Wells in London this summer (24th July to 30th August), where audiences can book tickets to see the production on any day of the week except Monday. Adult groups of eight or more members receive discounts, too - find out more on the website.
After Sadler's Wells, Singin' in the Rain heads to Japan, performing in Tokyo ahead of the UK tour.