A further 100,000 tickets have been released for Only Fools and Horses The Musical at the Theatre Royal Haymarket, following a "huge demand".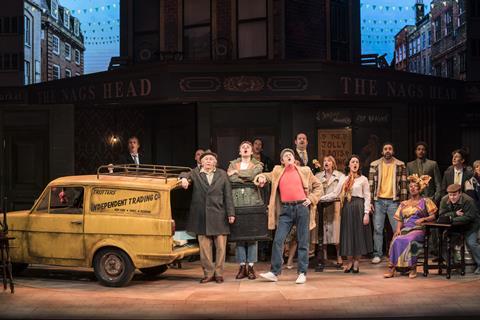 The musical will now stretch its run for a further five months, taking the performance up until February 2020.
After its premiere at the beginning of this year, the show has already sold more than 200,000 tickets.
Paul Whitehouse, who co-wrote the musical and stars as Grandad, said: "Only Fools and Horses The Musical has been an absolute joy to be a part of from day one.
"We're all so proud of the show and it's such a great feeling to see fans pack out the theatre night after night - they love it as much as we do."
About the show
Paul Whitehouse takes centre stage as Grandad, uniting with Tom Bennett (Del Boy) and Ryan Hutton (Rodney) in the unique show which features well-known material from the TV series.
The production is described as "a trip back to 1989, where it's all kicking off in Peckham" and is directed by Caroline Jay Ranger
Many popular characters from the original series feature in the production, such as Raquel, Cassandra, Trigger, Boycie, Marlene, Denzil, Mickey Pearce, Mike the Barman and the dreaded Driscoll Brothers.
Jim Sullivan, the son of John Sullivan who created the television series, also helped write the script and score to keep the stage show as authentic as possible.
Paul Whitehouse added: "Extending the run at the Theatre Royal Haymarket for a further five months is a real testament to John Sullivan's legacy and the incredible cast and creative team who have helped bring the show alive for our audiences to enjoy. Viva Hooky Street!"