Cruise line, Norwegian Cruise Line, has unveiled an entertainment schedule that will include Kinky Boots' exclusive debut at sea in 2019 on board Norwegian Encore.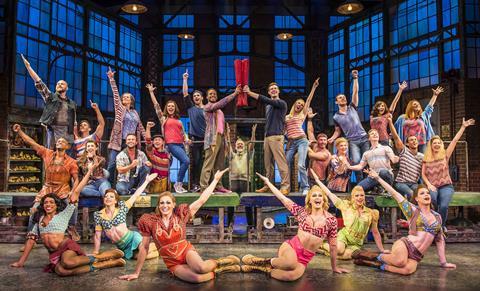 The announcement that the musical will be performed at sea came about at the Norwegian Encore's keel laying, the formal recognition of the start of the ship's construction.
The production will be shown exclusively on Norwegian Encore and will be reduced a show time of 90 minutes on board the ship.
The new ship debuts in November 2019, when it will depart from Miami to cruise the Eastern Caribbean. The ship will also offer itineraries from New York to Bermuda in summer 2020.
About the production
Based on a true story, the Broadway hit, Kinky Boots, tells the story of an unlikely partnership between Charlie Price (a shoe factory owner) and Lola, a larger than life cabaret drag queen. They embrace their differences and work together to save the business.
Kinky Boots features original music and lyrics by pop icon Cyndi Lauper and is about celebrating friendships, and the belief that you can change the world when you change your mind.
Other features to look out for on the Norwegian Encore
Norwegian Cruise Line is further expanding its portfolio of entertainment offers and amenities on its new ship.
As well as its exclusive showing of Kinky Boots, the cruise line will present productions of The Choir Man and Happy Hour Prohibition: The Musical.
Additionally, the Norwegian Encore will feature a two-level go-karts race track, believed to be the largest race track at sea.
Other entertainment will include the Galaxy Pavilion, a more than 10,000 square-foot indoor virtual reality complex, an open-air laser tag arena and an aqua park including two multi-story waterslides, one of which extends 11 feet over the edge of the ship and loops to the deck below.
Group bookings
Group rates are available and GTOs can find out more about individual offers by calling 033-241 2319.
For more information, visit www.ncl.com.