Harry Potter and the Cursed Child, staged at London's Palace Theatre, is now taking bookings until January 2020.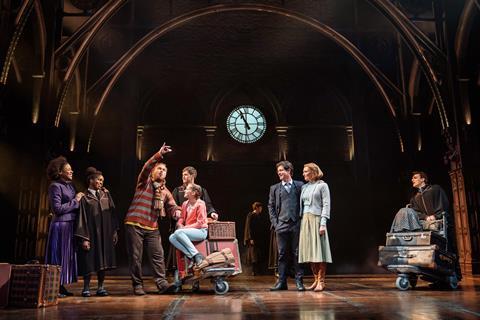 The new tickets have now been released for sale and will take bookings up until 19th January next year.
Along with the extension announcement, a new cast is now in rehearsals for the production, expecting to begin their performances on 22nd May this year.
Joining the company are Michelle Gayle as Hermione Granger, Rayxia Ojo as her daughter Rose Granger-Weasley and Dominic Short as Albus Potter.
Continuing company members include Jamie Ballard as Harry Potter, Susie Trayling as Ginny Potter, Thomas Aldridge as Ron Weasley, James Howard as Draco Malfoy and Jonathan Case as his son Scorpius Malfoy.
About Harry Potter and the Cursed Child
The play follows the story of Harry Potter when he is older, a husband and father of three, working for the Ministry of Magic. As Harry tries to deal with the past, his youngest song Albus struggles with the family legacy, a legacy he never wanted. Throughout the play, father and son have to deal with the truth that sometimes darkness comes from unexpected places.
Harry Potter and the Cursed Child, one play presented in two parts, is the eighth story in the Harry Potter series and the first official Harry Potter story to be presented on stage.
The critically acclaimed production received its world premiere in July 2016 at the Palace Theatre in London. It is also now playing at the Lyric Theatre on Broadway and at Melbourne's Princess Theatre in Australia.
The most awarded new play in theatre history, Harry Potter and the Cursed Child has won 24 major theatre awards in the UK and is the most awarded play in the history of the Olivier Awards, winning a record-breaking nine awards including Best New Play. The production has also won 25 major US awards with six Tony Awards including Best Play.
Group tickets are available via the official website.
For more information, visit www.HarryPotterthePlay.com.