An ancient manuscript which details the birthplace of football will go on display at the National Football Museum in Manchester, which is planned to reopen on 27th May 2021.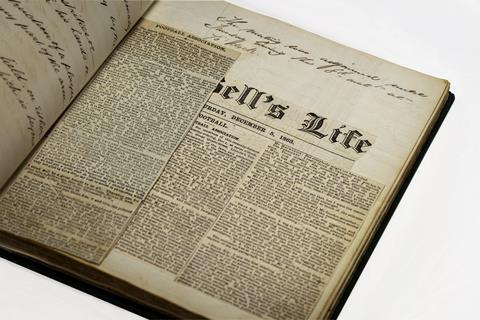 The handwritten Laws of The Game from 1863 contain the very first laws of football - the origins of the sport which is today played and watched by millions of people. It is described as the most significant book related to the sport.
The minute book features 13 original laws of association football, which were written by Ebenezer Morley, the first secretary of The Football Association (FA).
As the museum marks 20 years since it first opened, the ancient document is just one of the many other exhibitions and objects to go on display throughout 2021, celebrating the milestone.
More highlights
English Football Hall of Fame (exhibition opens 27th May)
For almost two decades the National Football Museum's English Football Hall of Fame has aimed to celebrate the great and the good of the game.
This is the first time the museum has put on a full-scale exhibition showcasing some of those who have made an outstanding contribution to football, both on and off the pitch. Hall of Fame inductees include Lily Parr, Bobby Charlton, Faye White, Patrick Viera, Rachel Yankey, Ian Wright, Kenny Dalglish and Hope Powell.
Latest inductees include Justin Fashanu, Alex Scott and Cyrille Regis. The exhibition is set to include new inductees for 2021.
Key objects on display
The oldest surviving FA Cup trophy will be returning to the museum, having been acquired at auction by new custodians Manchester City. The trophy was awarded to victorious clubs between 1896 and 1910.
Maradona's 'Hand of God' shirt will take on extra poignancy with the death of the former footballer last year. It was worn by the icon at the 1986 Mexico World Cup when Argentina knocked out England.
The Euros (exhibition opens 11th June)
This new photographic exhibition coincides with the rescheduled UEFA Euro 2020 which is being held across the continent for the first time in the competition's 60-year history.
The exhibition will focus on Euro 96 which saw hosts England lose in the semi-final to Germany on penalties. It will look at popular culture of the period when the Three Lions song found its way into stadiums as football came home.
New Lily Parr gallery (currently planned to open in the summer)
The museum celebrates Lily Parr – England's first international women's footballer. The gallery will feature new objects and previously unseen photographs of Lily and her team mates.
Born in St Helens in 1905, Parr was one of the most important figures in English football and it's believed she scored more than 980 goals in a 32-year career.