LEGOLAND® Windsor Resort is taking bookings for its Group Monster weekend on 23rd June to celebrate the launch of its latest ride The Haunted House Monster Party.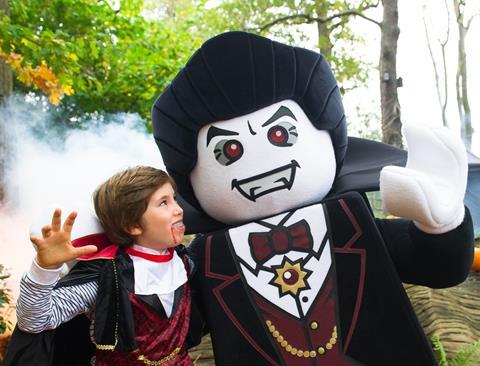 Groups of ten or more can book on to the weekend now with packages including a Free LEGO® Lord Vampyre Keylight available for every child and exclusive access to the resort's Monster Party Silent Disco.
Up to 50 people can take advantage of exclusive sleepover packages too, making the most of your spooky weekend at the resort.
For more information about the Group Monster weekend and to book, visit www.legoland.co.uk/tickets-and-passes/groups/
The ride is the latest to open at the site, which offers a host of exciting attractions for children and families.
About The Haunted House Monster Party
The ride, which is new this year, welcomes guests into Lord Vampyre's house and once sat at the banquet table, promises to 'turn the house upside down'.
Visitors will find the banquet table located in a decorated hall, fit for a monster with party food, cauldrons, potion bottles and goblets each made up of hundreds of LEGO® bricks.
The vampire then reveals his secret party trick when your group is sat in the hall, and through a mix of special lighting and screens, transforms the room upside down.
What else is available for groups at LEGOLAND®?
Groups of ten or more get discounted entry to the Windsor resort.
If you're travelling with families and younger members, each child gets a LEGOLAND® lanyard, exclusive group pop badge and an activity pack to complete during their visit.
There is free coach parking on site too.
An award winning attraction:
LEGOLAND® has picked up reader votes to win two years in a row as part of the Group Leisure & Travel Awards. Last year it was voted Best UK Attraction for Children & Families and the previous year it won Best UK Attraction for Children.