Cruise line, Princess Cruises, has announced its full 2020 Japan programme which is now available to book, including group bookings.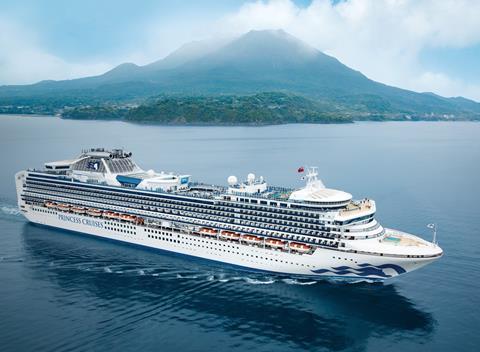 Throughout the year 2020, the Diamond Princess which can hold 2,670 guests, will sail a roundtrip from Tokyo and Kobe on more than 50 departures, to more than 50 destinations in 11 countries.
The voyages will range from five to 28-day itineraries and will give passengers the opportunity to participate in a range of activities and events, including Japan's famous summer festivals. Guests will also have the chance to, as well as see the spring flower and fall foliage sites, and celebrate the festive period in destinations such as Brunei, Malaysia and the Philippines.
Diamond Princess is tailored for Japan cruising and gives guests the chance to enjoy local experiences onboard such as relaxing in a traditional 'onsen' bath and dining in a sushi restaurant.
The 2020 Japan sailings
Departing on 15th August, is an eight-day Japan Explorer with Kumano Fireworks cruise roundtrip from Tokyo, calling at Wakayama, Kumano, Kochi, Kanmon Straits, Busan, Nagasaki, Gunkanjima and Kagoshima.
From 2nd April, a nine-day Japan Explorer Spring Flowers cruise roundtrip from Tokyo will call at Gamagori, Osaka, Kochi, Hiroshima, Busan and Sasebo.
A 14-day Borneo & Japan Cruise from Singapore to Tokyo, calling at Bandar Seri Begawan (Brunei), Kota Kinabalu, Manila, Hong Kong, Taipei, Okinawa, Osaka (for Kyoto) and Shimizu (for Mt. Fuji) will depart on 30th December.
All Princess Cruises are available for groups to book, subject to availability.
Tony Roberts, Princess Cruises' vice president UK and Europe, commented: "Guests sailing Japan with Princess Cruises will get to experience the best that this fascinating region has to offer, both onboard and ashore.
"The variety of cruises on offer gives our guests the opportunity to tailor-make their own holiday. Shorter seven-day voyages allow a cruise to be combined with a land holiday, while longer cruises of 14 to 28 days are popular with those who are keen to explore."
For more information, visit www.princess.com.