The producers of Everybody's Talking About Jamie have revealed that Noah Thomas will play the title role of Jamie New from Monday 6th January 2020 at London's Apollo Theatre.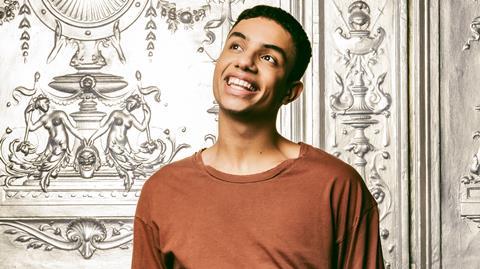 Noah, who was not expecting to get the role after admitting he did not have a lot of time to prepare for the audition, will take over from Layton Williams in the West End.
He said: "What a whirlwind! Only two weeks ago I was studying at Mountview drama school in London and had very little time to prepare for the audition, which I saw as a chance to gain some experience in the industry.
"I was asked back the next day, not expecting anything, and they asked me if I would like to play Jamie. I couldn't believe it.
"Noah was the 211th and final performer we auditioned for Jamie. After he'd sung the opening number and read the first scene, I was tingling with excitement. We had found our Jamie."

Nica Burns, producer of Everybody's Talking About Jamie.
"Nica (producer) told me to go outside the theatre and look up. It was then I realised that my face would be in lights on Shaftesbury Avenue. This is so surreal and I am so ready for whatever this experience holds."
Further casting for January 2020 is still to be announced and the show is currently booking until 29th August in the West End.
Layton Williams and Shane Ritchie will take the show on tour, opening in Sheffield in February 2020.
Meet Noah Thomas
The actor who was born and brought up in south London first became interested in theatre after seeing Annie and The Lion King at the age of five.
Aged 14 he successfully auditioned for the BRIT School where he bettered his skills in acting, singing and dancing, leading to him getting a place at Mountview in 2017.
He initially missed the open audition as his mum was receiving an MBE at Buckingham Palace, but was offered a second opportunity.
Noah is the the third person to play the lead role, following on from Layton Williams and John McCrea who originated the character at Sheffield Crucible Theatre in February 2017.
i am beyond overwhelmed!
thank you to anyone & everyone who has reached out and shown their support! all the love 💙

let's go do a @JamieMusical in January then I guess? pic.twitter.com/krHi2okfZ4

— Noah Thomas (@noahjdthomas) November 16, 2019
More comments
Nica Burns, producer of Everybody's Talking About Jamie, continued: "Noah is making his professional debut in one of the biggest and most demanding roles in musical theatre: it needs a really good actor who can also sing and dance to the highest level.
"We never imagined we would be casting a 20-year-old drama school student at the start of his career. Noah is going to be a fantastic Jamie and the possibilities for his future are boundless."
Stephen Jameson, principal & artistic director of Mountview drama school, said: "Noah was performing in our production of Guys and Dolls when he auditioned for the Jamie creative team and we are delighted they recognised Noah's incredible talent.
"Their decision to cast him in this amazing West End role before he had even finished training at Mountview is testament to his dedication and flair. Staff and students wish him well in this exciting start to his professional career."
You can watch the full trailer below:
Further information is available at www.everybodystalkingaboutjamie.co.uk