HF Holidays has released four new island hopping and trail holidays for next year, with specials rates available for groups of family and friends.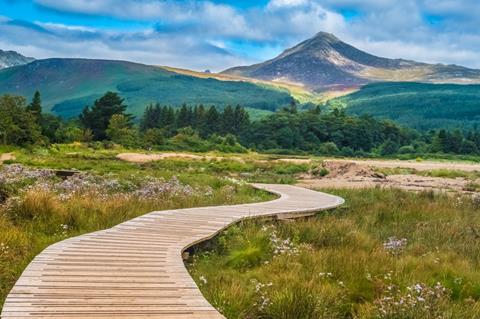 The travel operator has said that the new island hopping and trail holidays are designed to help people get away from daily life and enable travellers to visit some spots of natural beauty within the UK.
All four holidays have been created to follow the Government's Covid-19 guidelines and are accompanied by an experienced leader, while also including meals and luggage transfers.
Where can I go?
Best of Isle of Arran Guided Island Hopping: guests on this holiday can visit the remote Isle of Arran in Scotland, with the option of hiking to the top of Goat Fell's summit. The island has a range of mountains to see, as well as a long coastline, ancient sites and wildlife including red squirrels, golden eagles, sea otters, red deer and basking sharks.
Mull & Iona Guided Island Hopping: described as an 'island hopping adventure', you can enjoy some of the most varied scenery of any of the Scottish islands and also look out for some of Mull's famous wildlife – sea eagles, whales, sea otters, seals and more. Three nights are also spent on the island of Iona to round off the trip.
Cairngorms North Guided Trail: expect to cross the northern section of the Cairngorms National Park on foot to see its scenery up close. There will also be whisky trails to enjoy, wild glens, ancient native woodlands, waterfalls and wilderness lochs.
Hadrian's Wall Complete Guided Trail: this itinerary takes people across England from coast to coast along Hadrian's Wall - the northern frontier of the Roman Empire. An expert guide will take you all the way, from the saltmarshes of Bowness on Solway in the west, to the Roman fort of Segedunum, in the east.
Travel in your group bubble and save
HF Holidays has introduced the option of creating a holiday bubble for groups of friends or family who would like to travel together.
The travel operator is offering discounted rates for groups of six to nine adults, or slightly more off if the group has more than ten.
Groups can book the following trips by calling the groups team on 020 8732 1260.
More information can be found at www.hfholidays.co.uk