The sell-out 2019 Group Leisure & Travel Show has been a huge success with hundreds of group travel organisers descending on the Marshall Arena, Stadium MK, for a day of inspiration and exclusive offers.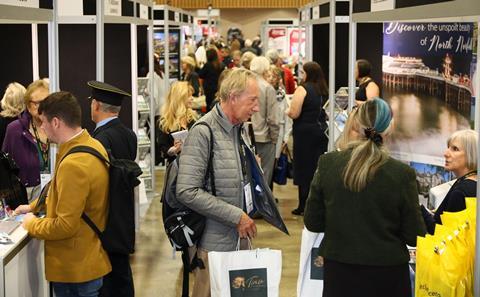 For the first time ever, the annual exhibition now in its 23rd year, took place today (Thursday, 10th October) in Milton Keynes and with more than 200 exhibitors it was bigger than previous years.
Scores of group travel organisers, from all over the UK, came through the doors of the arena for what is widely thought to be the key date in the group travel calendar. They were able to meet and speak to a wide range of exhibitors from hotel groups, ticket operators, cruise lines, historic attractions and tour operators.
There were many highlights of the day for visitors to enjoy from competitions to win holidays to gin tasting, seed giveaways and tasty treats.
Over on the Group Leisure & Travel Magazine stand, readers who registered for the new website had the chance of winning an iPad while there was a champagne experience to be won with The Original Tour and a free holiday with tour operator Travel Editions.
Show Director Graham Yandell said: "It's always a privilege and a pleasure to bring people together at this event. Once again we've had a hugely successful day and I would like to thank the visitors that attended and our exhibitors who did such a fantastic job in helping us put together the group travel sector's leading show. One thing to be certain about is that the move to Milton Keynes has been a great success and it is a success we can build on for the future."
GTOs feedback
"We've booked up trips with the World of James Herriott and the Mint, Mine & Vine experience by coming today so it's been really worthwhile." Alex Elmore, Kettering Caledonian Society
"This year we've found a complete mix of different attractions here that we've never seen before." June Holland, Kier Group Fellowship Trust
"I've got three bags full of good ideas and we'll go through them in due course. The celebrity seminars were very interesting too, particularly Kate Humble and Simon Calder – Simon's talk was humorous but informative at the same time." Eric Glover, Narborough Travel Club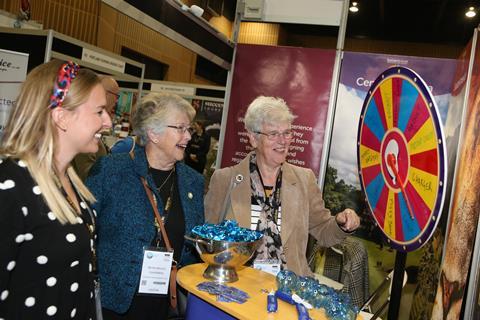 Exhibitor feedback
"We've met new group organisers and also made our relationship with existing customers even stronger. Exhibiting here for the first time was very easy too, as we could park our vehicles very close to the entrance and I think it works as customers seemed to be able to get here quite easily." Robert Shaw, Harry Shaw Coaches
"We've been exhibiting at the show for a number of years now in Birmingham but my first impression of the venue was great. It's quite big and easily accessible which is always a bonus, plus it wasn't far for us to travel." Aileen Sharp Tourism Development Officer, Visit Ely
The Seminar Theatre

The Seminar Theatre was a big hit yet again as three sessions took place throughout the course of the day.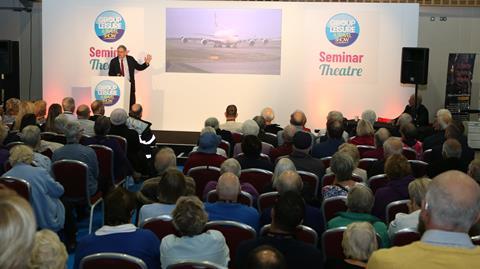 Talks were led by TV presenter and producer Julie Peasgood, senior travel editor of The Independent and TV pundit Simon Calder, and writer and broadcaster Kate Humble who presents Springwatch, Autumnwatch and Animal Park.
Each of the speaker's talks were packed out; Julie began the day with a talk about Taking Groups on a Cruise while Simon looked back on his 25 years on the travel desk. Kate Humble concluded the Seminar programme by sharing The Joy of Getting Off the Beaten Track.
Next year's Group Leisure & Travel Show

Stand bookings for the 2020 show and Awards partnerships for the next promotion can be made by contacting Sharon Yandell on 01908 613323 or by emailing sharon.y@yandellmedia.com. The message is book early, as both events are set to be a complete sell-out.

For more information visit www.grouptravelshow.com