Leeds Castle in Kent will host a variety of events and activities this year, with plenty suitable for groups.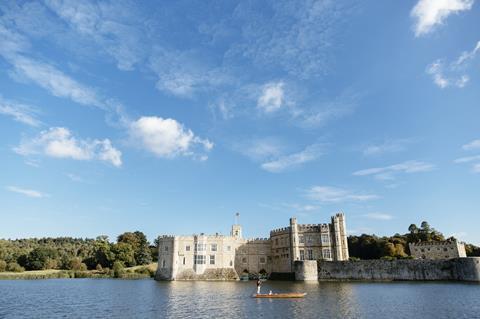 In 2019, the castle will be celebrating its 900th anniversary with a series of new attractions and special events, from the new adventure golf, gardens and a special carnival, to exploring the yew-tree maze and punting on the moat.
Events to put on your list
Leeds Castle's Garden Week will take place from 24th June when the newly-landscaped gardens will be unveiled. All year-round groups can also explore the Woodland Walk, the Culpeper Garden and Mediterranean Garden.
Wave your Union flags, picnic under the stars and be entertained by field cannons, fireworks and music performed by the Royal Philharmonic Orchestra at the Leeds Castle Classical Concert on Saturday 13th July.
Celebrate 900 years at the Carnival of History on 27th and 28th July. This weekend will finish with a procession full of dazzling colour and costumes with re-enactors taking you through the Castle's nine centuries of history.
Be inspired by the creativity of international florists and floral designers at the Festival of Flowers taking place from 14th – 19th September themed to a 'Floral Party' and take part in pre-bookable floral workshops, specialist talks and demonstrations.
Celebrate Bonfire Night at the Leeds Castle Fireworks Spectacular on Saturday 2nd and Sunday 3rd November. Be amazed by over 20,000 star bursts lighting up the sky above as choreographed music and projections appear on the Castle below.
Other highlights to look out for
Visit the Bird of Prey Centre, housing 30 birds of prey and 21 different species from a British Kestrel to a Striated Caracara from South America to Laughing Kookaburras from Australia. See free flying falconry displays daily during the summer season and at weekends all year round.
Float on the moat through the ancient arches of the Castle in a wooden punt. Groups receive discounted rates and will be able to see views of the Castle from a new perspective with a guided tour..
The yew-tree maze and grotto consists of 2,400 yew trees; once you reach the middle of the maze, groups can return to 'civilisation' through an underworld grotto, complete with macabre forms and mythical beasts.
Discover the world's largest collection of dog collars at the Dog Collar Museum. This collection of canine neckwear spans five centuries is the largest of its kind on public display in the world. There are over 130 rare and valuable collars for groups to see housed in the centre.
Browse the Magical Christmas Market on the Cedar Lawn overlooking the Castle to discover an array of seasonal gifts, toys, festive decorations, specialist food and drink. Groups can also explore the decorated Castle during this event.
For more information on Leeds Castle group visits contact 01622 767865 or visit www.leeds-castle.com/Groups.