Groups can book their discounted tickets to see Sarina Wiegman's England Lionesses take on Italy, Belgium and Korea Republic in the Arnold Clark Cup tournament, which returns to England in February.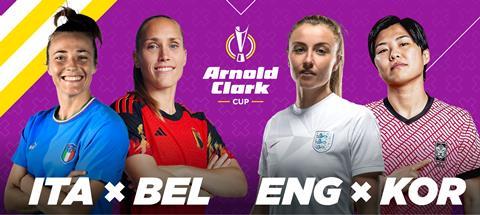 The format for the tournament sees four of the world's top 20 teams in women's football, battling it out across three double-header weekends in February 2023.
The first round of games will see England play Korea Republic and Italy face Belgium at Stadium MK in Milton Keynes on Thursday 16th February. The next round of games will be played on Sunday 19th February with the venue to be confirmed, followed by the final match day at Ashton Gate Stadium in Bristol on 22nd February, where England will face Belgium.
Following a fantastic summer of women's football, the tournament format offers the opportunity to experience two highly competitive fixtures on the same day, with groups of nine or more people qualifying for discounted rates.
England are current holders of the Arnold Clark Cup and will seek to retain their title, with this being one of the last chances to see the European champions in action ahead of the FIFA Women's World Cup.
Sarina Wiegman, England senior women's head coach, told the tournament's official website: "Winning the 2022 Arnold Clark Cup was a big achievement and gave us momentum and confidence heading into the Euros.
"It's great to have the opportunity to defend this title in front of our fans. Everything we now do is about being ready for the World Cup. Facing three different good opposition, each with a different style of play and playing three matches in ten days is the perfect preparation for the challenges that await us this summer. We hope these games excite the fans and they continue to give us such amazing support."
Founded in 2022, the Arnold Clark Cup is an invitational women's association football tournament, hosted by the Football Association.