An enjoyable and successful day was had at the annual Group Leisure & Travel Show as GTOs and exhibitors from across the travel trade came together to share ideas, offers and expert advice.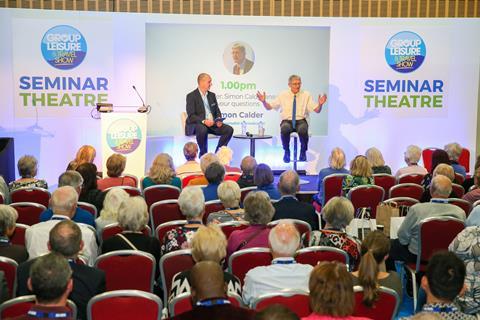 Held at the Marshall Arena in Milton Keynes on 6th October, the Group Leisure & Travel Show proved once again why it is the most popular exhibition for people who organise group trips and holidays.
Group travel organisers from up and down the country travelled to one of Britain's newest cities to talk with exhibitors, learn from expert speakers in the Seminar Theatre, and come away with new ideas to help plan their trips and holidays in 2023 and beyond.
Travel expert Simon Calder, who hosted a Q&A with guests in the Seminar Theatre, also joined a number of group organisers travelling from London, on the free coach transfers available to all visitors.
Mike Herring, group organiser for Kings Cliffe Old Blokes Club, said: "This show is a major source of information to help inspire our group trips," while Becky Chikaura of Ms Bee Group Travel, commented: "It's lovely to see new exhibitors and be in a room with like-minded people. I absolutely loved the talk from Jennie Bond in the Seminar Theatre, she was incredibly funny."
Andrew Moss, who organises trips for Oxford NHS Retirement Fellowship, added: "For me, it's a day full of discovery. Before you come you may have identified a few exhibitors you would like to speak to, then when you get here, there's so much more to see."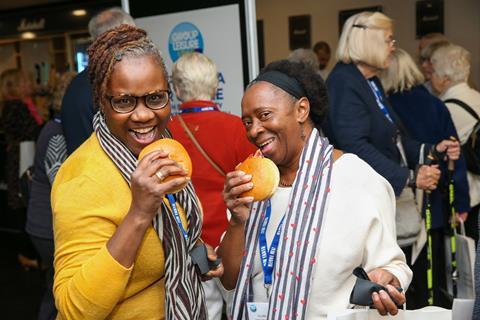 This is the third time the UK's number one travel exhibition for groups has been hosted at the venue, with plans in place to bring the GLT Show back to the Marshall Arena on Thursday 5th October, 2023 (save the date).
Show organiser, Sharon Yandell said: "It has been another very successful show, and despite some disruption to travel caused by the rail strike, we welcomed a wide and diverse range of quality visitors who see this event, particularly at this time of year, as an important and unique opportunity to help in forward planning.
"Meeting people face to face and being able to keep up to date with venues, operators and the very latest offers, makes the GLT Show a must in the annual calendar."
Exhibitors offer group travel organisers a wealth of inspiration
Visitors met with top attractions, tourist boards, accommodation providers, coach companies, tour operators, cruise lines and much more to plan future group outings, with many exhibitors promoting exclusive competitions, giveaways and offers to those in attendance.
Among the many highlights was a replica Enigma machine on the Bletchley Park stand, a look at the first images of King Charles' coin design on the Royal Mint stand as well as competitions such as VIP tour tickets from West Midland Safari Park, and the chance to see Frozen The Musical in London, courtesy of Disney Tickets.
Visitors also entered give-aways for free weekend passes with Northern Trains, win a complimentary overnight stay in Leicester, and enjoyed delicious free ice cream thanks to Group Leisure & Travel magazine – GTOs were certainly spoiled for choice.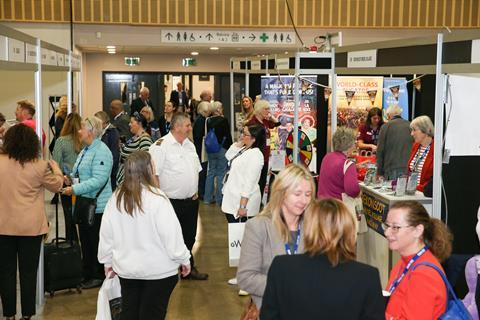 Andrew Niven, sales manager at Bodmin Jail Attraction, said: "This is the first time I've exhibited with Bodmin Jail and it's exceeded my expectations in terms of the quality of group organisers here. It's much harder on the phone to say what we're about, it's far easier to come to the Group Leisure & Travel Show to sow the seed in visitors minds and follow it up with them."
Bernie Patry-Makin, travel trade manager at Tottenham Hotspur Stadium, said: "We've had a good mix of people that we think will convert into group bookings which is always positive and it's been really busy, so we've had a great day."
Eric White, groups & travel trade executive at the Royal Botanic Gardens, Kew, added: "It's so nice to be here and put faces to the names I speak to on the phone. The standard of group organisers here is superb."
Expert advice from the Seminar Theatre
Organisers of the GLT Show were delighted to welcome cruise expert Jane Archer, travel guru and GLT Show regular Simon Calder, plus royal commentator Jennie Bond to the Seminar Theatre line-up this year.
Jane Archer kicked off proceedings by explaining what options GTOs have when thinking about organising an ocean or river cruise for a group. She was followed by Simon Calder who was on-hand to answer questions in an exclusive Q&A session.
The trio was completed by experienced broadcaster Jennie Bond, who shared a fascinating insight into her time with the Royal Family, including what Queen Elizabeth II was like behind the cameras and palace walls.
Sharon Yandell added: "I also want to thank our exhibitors who do such a fantastic job in making the Group Leisure & Travel Show such an important day for the sector and the most popular event by far for serious GTOs each year."
Save the date for next year's GLT Show
The 2023 exhibition will take place on Thursday 5th October at the Marshall Arena, Milton Keynes.
Stand bookings are now on sale. For more information and to secure your preferred position contact Sharon Yandell on 01908 613323 or email sharon.y@yandellmedia.com.