The new wellness and adventure programme from G Adventures includes trips in ten destinations, all designed to slow travellers down and appreciate their surroundings.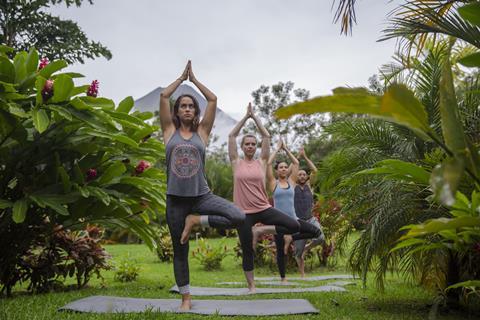 The new wellness trips range from seven to 13 days, and balance must-see highlights with a slower pace of travel.
Regular yoga sessions, intention setting and healthy food choices will be on offer to small groups, and travellers will be encouraged to take part in local rituals such as a purification bath in Bali, a prayer ceremony in Nepal and an ashram stay in India.
Destinations included in the wellness programme are Bali, Colombia, Costa Rica, Iceland, India, Italy, Nepal, Patagonia, Peru and Thailand.
Commenting on the new wellness trips, Brian Young, managing director EMEA at G Adventures said: "They are suitable for travellers of all ages and abilities, and are centred around the three pillars of mindfulness, movement and nourishment."
A selection of the new G Adventures wellness itineraries
Wellness BalI: Passengers will embark on a nine day tour, taking in some of Bali's ancient spiritual sites and wellness rituals. The itinerary will include a trip to the Tirta Empul Hindu temple for a traditional holy bath.
Wellness Colombia: Highlights of this eight day tour include sampling local street food during a visit to Cartagena, a day hiking in Tayrona National Park and a walk through the foothills of the Sierra Nevada to the Aluna Springs for a guided meditation next to a waterfall.
Wellness Iceland: Groups will enjoy a mix of geothermal spas and yoga sessions overlooking the waterfalls of Thingvellir National Park, and hiking Solheimajokull Glacier during this seven-day wellness journey.
Wellness Italy: This seven day tour will focus on local food and being present in your surroundings. Enjoy farm to table style cooking classes, restorative evening yoga and natural thermal pools, as well as visits to traditional vineyards and local wine tasting.
Wellness India: Groups will spend three nights in a traditional Ashram, before heading to Dharamshala, the home of the Dalai Lama, learning about Hindu and Buddhist spiritual beliefs during this 11-day tour.
Information for groups
All of the new wellness itineraries are available for groups of eight or more to book through G Adventures Private Tours offering.
For more information, visit www.gadventures.com/travel-styles/wellness.