Named Valiant Lady, the new ship is scheduled to debut in May 2021.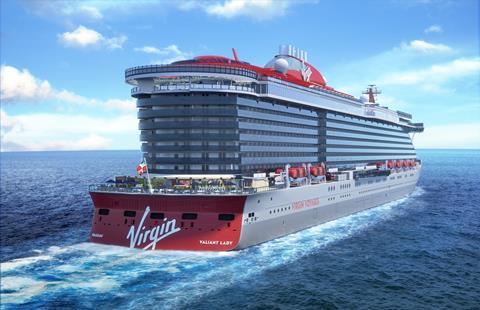 Latin and French are the inspiration behind the new ship's name, which aims to represent the idea that women design and captain change in the maritime industry. She is scheduled to sail on the Mediterranean in 2021, setting out from Barcelona in May.
There will be a choice of three itineraries available:
Itinerary 1 - Barcelona, Ibiza, Monte Carlo, Marseille and Olbia.
Itinerary 2 - Barcelona, Ibiza, Toulon, Ajaccio, Marina di Carrara and Cagliari.
Itinerary 3 - Barcelona, Ibiza, Palma de Mallorca, Malaga and the British port of Gibraltar.
Bookings will open in December 2019, and every one will offer later stays in ports, allowing passengers to make the most of their time on the ground and fit in the destinations they wish to visit. Every sailing includes an overnight stay in the Balearic Island of Ibiza, which Virgin Voyages describes as offering plenty of variety for tourists with its beach clubs, markets, spas and late-night entertainment.
Beginning in Barcelona, the new ship will dock close to the famous Las Ramblas, positioning passengers as close to the heart of the city as possible. The neighbourhoods of Poble Sec, el Raval, Barri Gotic and Port Vell are within walking distance, as is the La Barceloneta urban beach. Sail away will be every Sunday and there will be a number of different flight options for guests.
"We are thrilled to unveil the name of our second ship - Valiant Lady - and to deliver on our commitment to offer travelers a sea change in how they can experience cruising in this fantastic part of the world."

Tom McAlpin, CEO of Virgin Voyages
Little has been detailed so far about the ships facilities. Both Valiant Lady and her sister ship, Scarlet Lady, are involved in the company's 'Scarlet Squad' programme which aims to recruit and mentor female cruise staff, particularly in leadership roles in areas such as marine, technical and hotel management. You can read more about the programme here.