Six years in the making, RHS Hilltop - The Home of Gardening Science, will open at RHS Garden Wisley in Surrey this June.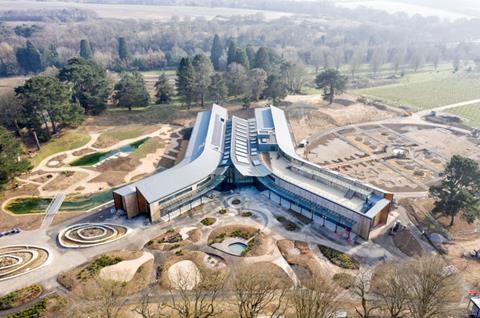 It is described as the UK's first dedicated gardening science hub and will be surrounded by four acres of 'living laboratories', at RHS Garden Wisley.
A large interactive exhibition space will explore ways we can adapt to, and mitigate against, climate change in our gardens, to boost wellbeing, the environment and to enable wildlife and plants to flourish.
A team of 70 RHS scientists and students have moved into the new facilities and are working on projects such as discovering the best plants to soak up pollution, ease localised flooding, capture carbon and cool cities.
Visitors will be able to watch live experiments as they happen and speak directly to scientists to learn more about their work.
RHS director of science and collections, Professor Alistair Griffiths, said: "Two centuries of horticultural research has shown that gardens and gardening improve our health and the environment in powerful and wide-reaching ways.
"Millions more people are now gardening, adding plants to previously paved over spaces. We want our science to help supercharge gardens and deliver maximum benefits from healthy plants for people and the planet."

Professor Alistair Griffiths, RHS director of science and collections
"The purpose of RHS Hilltop is to present to the public what we know so far but also to intensify our research so we can continue to find solutions to some of the biggest challenges facing us today."
Collections of dried plants, bugs, books and art dating back more than five centuries, which are said to provide the most complete record of the UK's horticultural heritage, will also be revealed for the first time.
RHS Hilltop will feature three new gardens with ideas for people to take away and incorporate at home, in schools and in communities:
The Wellbeing Garden, designed by Matt Keightley, is a 'living experimental' garden. Visitor's reactions to scents, sounds and sights, will be recorded to better understand the positive effects that plants can have on us, in order to create the first evidence-based blueprint for a wellbeing garden.
Ann-Marie Powell has designed The Wildlife Garden which is rich in plant diversity and contains large water features designed to attract and provide a haven for birds, bees and insects.
The World Food Garden, also designed by Ann-Marie, will feature fruit, vegetables, herbs and edible plants from all over the world as well as a demonstration kitchen
Professor Griffiths added: "Gardening science has always been at the heart of our work and today this is more important than ever as we try to create a more sustainable world."
Group travel organisers can currently book to visit RHS gardens on a provisional basis dependent on Government lockdown and social distancing rules. They can contact groups@rhs.org.uk