A host of attractions across the UK will stage illuminated light trails over the festive season, allowing groups to literally Step Into Christmas.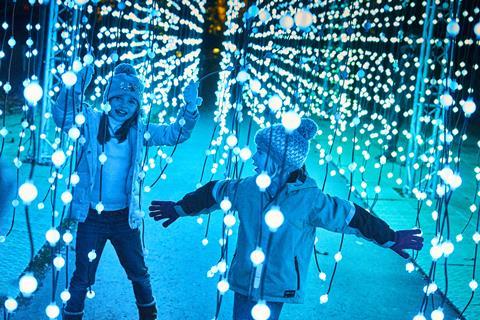 Events promoter, Raymond Gubbay Limited, has announced dates for seven illuminated trails, featuring different themes and light installations.
Two new attractions will be hosting festive events this year, adding further options for group-friendly visits at Christmas.
The seven routes will all be staged at historic and iconic venues, including Blenheim Palace, Royal Botanic Gardens, Kew and Dunham Massey and all the trails are designed to suit tastes of all ages.
New for 2019
Stourhead, Wiltshire (29th November - 30th December): Described as 'a living work of art', visitors to the landscaped gardens will be able to walk through a Tunnel of Light, featuring more than 100,000 pea-lights, beside illuminated hedgerows which lead towards thousands of other lights on the Fibre Optic Lawn.
Belton House, Lincolnshire (28th November - 30th December): Set among the pleasure gardens and ancient deer park, Belton House's display will include festive tree canopies for the season and traditional decorations.
What else to look forward to
Blenheim Palace, Oxfordshire (22nd November - 5th January): A multi-coloured aerial light show will take place at Blenheim Palace this year, as well as an interactive 30-metre long promenade of LED vines, created by Australian studio Mandylights. New to the former home of Sir Winston Churchill this year is Alice in the Palace, which will see the state rooms take inspiration from Lewis Carroll's tale to portray the Wonderland.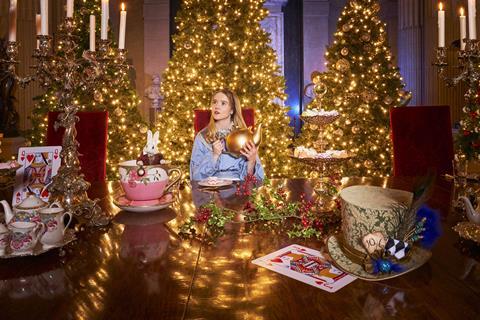 Royal Botanic Gardens, Kew, London (20th November - 5th January): With more than a million lights across the site, guests to the trail at the gardens can 'expect festive bursts of colour as they explore Kew's iconic landscape'.
Dunham Massey, Cheshire (22nd November - 30th December): A replanted avenue with huge flowers will feature at this year's display, as well as a glowing Vortex Tunnel and illuminated deer. Groups can also walk around its decorated woodland.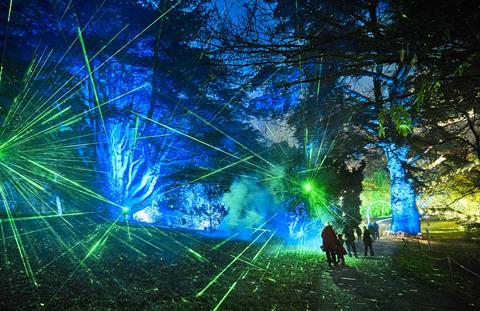 Royal Botanic Garden, Edinburgh (22nd November - 29th December): The garden will feature a laser garden this season and will also project bright colours onto its Inverleith House, dancing in time to Christmas music.
Bedgebury National Pinetum and Forest, Kent (22nd November - 30th December): Groups visiting the site can toast marshmallows at one of the fire pits, ride one of the traditional Victorian fairground rides (additional charge) while also walking through a trail of light.