Travel may be restricted at the moment but there is still the option of staying local and heading out for some glorious walks, adhering to the rule of six. Here are some top picks to blow off the seasonal cobwebs:
Trentham Gardens, Staffordshire
The gardens offer a chance to escape the everyday in the great outdoors, whatever the season, but for winter, nature stages an extra-special show, adding another perspective to Trentham's celebrated landscapes, crafted by two top historic garden designers. The splendour of Lancelot 'Capability' Brown's woodland, parkland and lake, complements the formality and garden architecture of Charles Barry's Italianate terraces, which look stunning with a frosty glaze. As well as the sights of winter, Trentham brings a sense of smell too, with groves of fragrant winter flowering shrubs coming into their own at this time of year.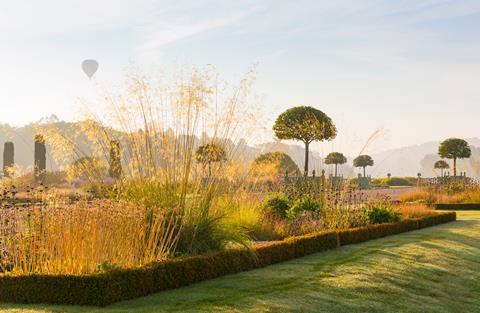 Belton House, Lincolnshire
Sitting elegantly in formal gardens with views across pleasure grounds and an ancient deer-park, Belton House is a fine example of an English country-house estate. The garden and park at Belton are open right through winter, perfect for a wander around the gardens, pleasure grounds and 1,300 acres of parkland. Not surprisingly it's one of the National Trust's suggestions for walks in its Lincolnshire estates. On quiet days, Belton deer are often very close to the house and make for great photo opportunities. At this time of year, one of the best views is from top of the slope to the Old Wood. Here you'll find a bench where you can sit and gather your thoughts as you look across the park to the house.
Mottisfont, Hampshire
For a breath of fresh air and a feast for the senses in these colder months, how about a stroll through a winter garden in the grounds of Mottisfont, an 18th-century house and country estate with a medieval priory at its heart? From December to January, the vibrant winter garden has been specially planted to provide colour during the shortest days of the year, with paths winding through winter-flowering shrubs and perennials. Elsewhere around the wider estate of the National Trust property, there are 1,600 acres of woodland and tenanted farmland, including Stockbridge Down and Marsh.
The Roaches, Staffordshire
The Roaches is known for its gritstone edges and craggy rocks which look especially prominent in the winter. Derived from the French word for rocks ('roches'), and protected for its wildlife and rare wild habitats, the two main gritstone outcrops are Ramshaw Rocks, famous for the Winking Man rock formation, and 'Hen Cloud' offering panoramic views. The less visited northern section, with its sheltered woodlands, is where you will find the rocky chasm known as Lud's Church.
Clifftop rambles in East Yorkshire
Now a cliff top walk may not seem like the best option in the winter, but it's always the quiet time of year where a bracing cliff top walk will uncover the soaring seascapes which are probably the best in Yorkshire. The likes of Bempton and neighbouring Flamborough Head also become a haven for migratory birds. In winter, Bempton Cliffs is a hot spot for migrants such as redwings and goldcrests. Short-eared and barn owls can often be seen hunting across the nearby fields, while the reserve's chirpy tree sparrow colony is a cheery spectacle all year round. Head a little further south along the coast and Flamborough Head, with its spectacular chalk cliffs, stacks, arches and smugglers' caves, as well as two lighthouses, may bring Snow Buntings, Waxwings or a Rough-legged Buzzard.
Under Goverment restrictions, those living in Tier 3 areas should only visit countryside and public parks within their own area, and should not travel to any other destination. Check individual websites for the latest updates and any restrictions.