Producer Judy Craymer has announced a major booking extension period for Mamma Mia! at London's Novello Theatre, extending its stay until Saturday 30th September 2023.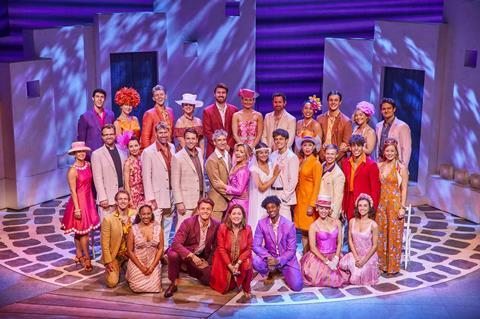 It's also been revealed that ticket prices have frozen for the extension and are now on sale, with groups of ten qualifying for discounted tickets.
An all-new cast will also take to the stage from 10th October featuring Norman Bowman as Sam, Christopher Dickins as Harry, Meg Hateley as Sophie, Miles Henderson as Sky, Natasha Heyward as Ali and Olivia Lallo as Lisa.
The line-up is completed by Lucca Chadwick-Patel as Eddie and Jake Bailey as Pepper, with Jennifer Adab playing Donna at certain performances.
The London cast will continue to star Mazz Murray as Donna, Josie Benson as Tanya, Gemma Goggin as Rosie and Stephen Beckett as Bill.
Since premiering in London in 1999, the musical has captured the hearts of millions around the globe, telling the tale of a mother, a daughter and three possible dads on a Greek island idyll, all unfolding to ABBA's music.
It has now been seen live on stage by 65 million people across the world and turned into two record-breaking movies – Mamma Mia! The Movie and Mamma Mia! Here We Go Again.
To date, the show has been seen in 50 productions in 16 different languages grossing more than $4 billion at the box office. In 2011, it became the first Western musical ever to be staged in Mandarin in the People's Republic of China.
Mamma Mia! originally opened in London at the Prince Edward Theatre on 6th April 1999, before transferring to the Prince of Wales Theatre in 2004, and then to the Novello Theatre in 2012.
The London production has been seen by more than 10 million people, played over 9,000 performances and has broken box office records in all three of its London theatres.