English Heritage has just completed the final phase of a three year regeneration project, costing £620,000, in a bid to give a new lease of life to Stokesay Castle in Shropshire.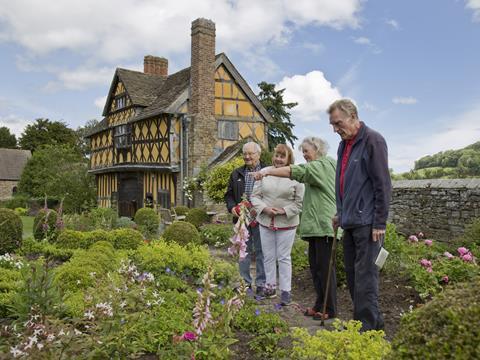 Groups visiting the 13th-century castle can now benefit from the addition of a 44-seater tea room, better interpretation within the fort and a revamped garden, which is the most recent and final addition to be completed.
The garden has been completely replanted with a mixture of herbaceous perennials and shrubs, mixed with hydrangeas and asters to extend its season into the autumn.
Lavenders, old variety roses, clipped box and hollies complete the new-look garden, which is based on how its original, Edwardian owners would have had it more than 100 years ago.
In 2017, the nearby Stokesay Cottage was converted into a tea room, and its exterior transformed into an outdoor seating area, overlooking the fields to Long Mynd and the Shropshire Hills.
An interpretation project was then installed a year later, and now provides a further insight into the history of the castle, revealing what each room was used for, the stories behind the people who lived there and the origins of the site.
Exclusive group offers at Stokesay Castle
Coach drivers and tour leaders (one each per group) can enjoy a free lunch in the tea room, with each group member within their party receiving a 10 per cent discount. This offer is only available on pre-booked visits of groups of 11 or more and must be used on the day of the visit.
Groups receive a discounted entry price to the castle, with one tour leader and one coach driver from each group admitted free.
Free familiarisation visits can be arranged.
The castle has free coach parking which is 100 metres from the entrance.
More about Stokesay Castle
Although classified a 'castle', Stokesay is built more like a manor house, and couldn't have withstood a serious siege.
Almost everything visible at Stokesay today was built in the 1280s and 1290s by Laurence of Ludlow, a local merchant who worked in the wool trade.
In the 19th century the castle was repaired and preserved by early conservationists.