Based on the popular Disney animated film by the same name, Frozen the musical will make its UK debut at the Theatre Royal Drury Lane in 2020.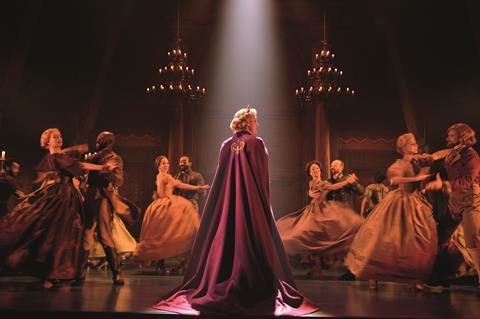 As the musical celebrates its first year on Broadway, it has been announced that the show will make its UK debut next autumn at the Theatre Royal Drury Lane, which is currently closed for refurbishment.
What is Frozen about?
The story follows Anna and Elsa, two sisters who over the years who have drifted apart due to Elsa's secret ice powers. When her powers are exposed during her coronation, Elsa flees, and it is Anna's job to find her and bring her home, accepting who she is.
The musical features much loved songs such as For The First Time in Forever, Love is an Open Door and the award-winning Let It Go.
Official dates, ticket sales and casting is yet to be revealed.
The show has music and lyrics by Kristen Anderson-Lopez and Robert Lopez; the book by Jennifer Lee, set and costume designs by Christopher Oram, lighting design by Natasha Katz, and choreography by Rob Ashford.
Jennifer Lee commented: "We're so humbled by the continued support for Frozen - at its heart, a joyous story about love and sisterhood. We're very excited to share what we have created on stage with London and to see it come to life in that gorgeous theatre."
Kristen Anderson-Lopez and Robert Lopez said: "The power of Frozen comes from the story of two strong, very real women saving their world by leaning in to their deep love for one another. Expanding this story has been an absolute joy. We went deeper and discovered several song moments that enrich the story in a new emotional and theatrical way."
Andrew Lloyd Webber's Theatre Royal Drury Lane, owned and managed by LW Theatres, is closed for 20 months for a £45 million renovation and restoration project and will reopen as Frozen begins previews.
About Frozen
Frozen opened on Broadway in March 2018 and quickly established itself as the biggest new musical hit of its season, nominated for the Tony Award® for Best Musical. In addition to the opening in London, the musical has a North American tour planned for this autumn, productions in Australia and Japan opening in 2020, and a further production for Hamburg in 2021.
The highest grossing animated film of all time, Frozen was released in cinemas in 2013, winning multiple awards, including two Academy Awards® for Best Animated Feature and Best Original Song (Let It Go), the Golden Globe for Best Animated Feature Film and the BAFTA for Best Animated Film. It was written and directed (with Chris Buck) by Jennifer Lee, with music and lyrics by Kristen Anderson-Lopez and Robert Lopez. Frozen 2 will be coming to UK cinemas this November.
For more information, visit www.frozenthemusical.com.