The RHS has announced details of its festive 'Glow Illuminations', winter walking tours and catering packages for groups visiting its four gardens.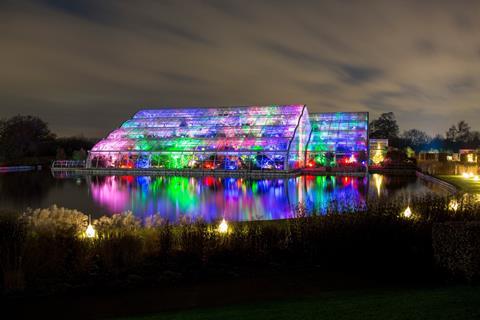 RHS Gardens Wisley in Surrey, Rosemoor in Devon and Harlow Carr in Harrogate are all hosting the Glow Illuminations this year and groups are invited to enjoy the gardens in the day and stay on to enjoy the events as darkness falls.
There's also a special Winter Garden at RHS Garden Hyde Hall in Essex, a Winter Sculpture Exhibition at Rosemoor and a variety of experiences to be had in the gardens themselves. Complementing visits with catering packages, groups can also indulge in special festive lunches, afternoon teas, mulled wine and mince pies as well as warming simple suppers.
Melissa Hackney, groups marketing manager for RHS Gardens said: "Our winter events are a great way for groups to enjoy the gardens at this time of year. With memorable events and festive displays adding to the winter flora, they represent great value for money with no additional charge for the illuminations.
"In addition to free parking and RHS members entering free of charge, there is also the excellent added benefit for groups who have already visited an RHS Garden during the year, to book a second visit (between October and January) to another RHS Garden with a 50% discount."
What's happening at each of the gardens over Christmas?
1. RHS Garden Wisley, Surrey (1st Dec – 1st Jan 2020): There'll be giant illuminated flowers setting the grounds aglow from 7th December until 5th January. During this time, there's also a dedicated groups catering package available hosted in the Terrace Room, either on a shared or exclusive use basis, for up to 50 people with views out towards the Seven Acres and illuminations. Options include a festive lunch with prosecco or afternoon tea with mulled wine, mince pies, cranberry and gin brownies or Christmas cake.
Winter highlight? Don't miss the mass planting of 100 lightly fragrant yellow flowers - Edgeworthia chrysantha 'Grandiflora' - one of many treasures on the Winter Walk.
2. RHS Garden Rosemoor, Devon (14th Nov – 4th Jan 2020): Groups can see Rosemoor's Winter Garden, Stream Field and Long Borders come to light in the early evening with magical 'Glow' illuminations on selected Thursdays, Fridays and Saturdays from 14th November until 4th January. Special catering packages are also available. In addition, the Winter Sculpture Exhibition, available daily, will provide some added interest to the gardens, when visiting from 7th November to 31st January; last year it saw more 50,000 visitors, with artworks juxtaposed against the backdrop of the garden in winter.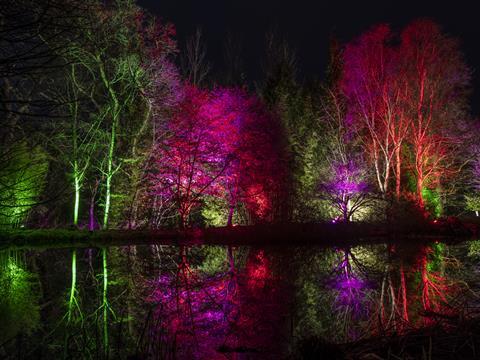 Winter highlight? There's late-night shopping in the Gift Shop until 7.30pm (during Glow nights) and, when planning a group visit on the Saturday, during the Christmas Design For Living (22nd – 24th November) and Magic of Christmas (14th – 15th December) fairs.
3. RHS Garden Harlow Carr, Harrogate (15th Oct – 28th Dec): Christmas comes at Harlow Carr this year with an exhibition featuring local artists and the chance to pick up some unique festive gifts. An illuminated trail will add an extra touch of magic around the garden's trees and shrubs from 21st November to 28th December. Setting the gardens aglow, every Thursday – Saturday (except Boxing Day) from 4.30pm – 8pm, visitors will experience the garden in a completely new light with sparkling illuminations reflected in the lake, on the Streamside walk, Winter Walk, Doric columns and Alpine House.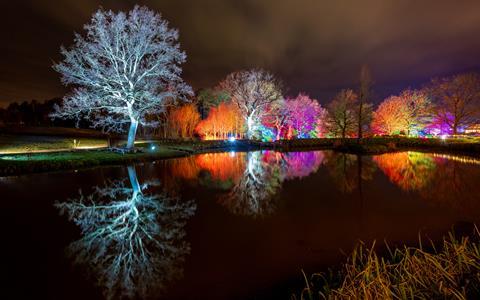 Winter highlight? Enjoy the vibrant colour of brightly-coloured barks, Cornus stems and berries along the Winter Walk, fragrant winter flowering shrubs, fabulous stem colour and a spot of bird watching from the hide.
4. RHS Garden Hyde Hall, Essex: The gardens take on a magical feeling during the winter months with crisp wintry walks and a Winter Garden radiant in colour. Ranging from bright conus stems, peeling cherry barks and luminous leaf colours to vibrant beds of 'Christmas roses' (hellebore) and frost-tinged perennials add to the festive feel. After walking up an appetitie, groups can indulge in a choice of delicious festive treats at the Clover Café or Gardeners Rest Restaurant.
Winter highlight? In addition to the gift shop, the Christmas Gift & Craft Fair will provide plenty of festive goodies and handcrafted presents from 22nd to 24th November.
Group bookings
Pre-booked groups receive special rates at all of the gardens (minimum numbers apply) and can also opt for an extra Private Garden Tour.
For information contact 020-7821 3170, email groups@rhs.org.uk or visit rhs.org.uk/groups