CroisiEurope will be running Nile Cruises from February 2020 when it charters the luxurious Steigenberger Royale river cruise ship.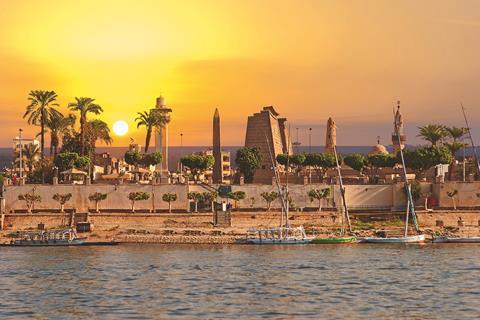 The new eight-day cruise holiday from Luxor will take passengers through more than 2,000 years of history along the Nile, with different experiences planned on the trip.
Calling at Edfu, Aswan, Kom Obo and Abu Simbel, guests will be able to see historic temples, tombs, pyramids and different villages.
The Steigenberger Royale can accommodate up to 106 guests in 50 cabins and features facilities such as a restaurant serving a mix of local and international cuisine, a large lounge and bar, a panoramic lounge and sun deck with a pool and a Jacuzzi.
Voyage highlights
Visits to the sites of Upper Egypt: Karnak, Luxor, Edfu, Philae and Kom Ombo.
An optional visit to the Sound & Light Show at the Karnak Temple Complex.
An optional trip to the Abu Simbel temples in the desert.
Meeting villagers in Aswan and Luxor to understand their culture and customs.
A tuk-tuk ride through typical Egyptian villages.
Onboard services of an Egyptologist and tour guide who will provide different lectures.
With a number of departue dates between February and December 2020, the price of the cruise also includes all meals, some excursions, the services of an English-speaking Egyptologist and other fees.
Also available is a pre-cruise programme offering three full days in Cairo with visits to the Giza Platea for the Great Pyramids and the Sphinx, Saqqara Necropolis, the Pyramid of Teti and the city's bazaar district.
About CroisiEurope
The cruise line now operates 50 company-owned ships and five chartered vessels.
The operator says its main focus is to provide its passengers with a pleasurable trip in the comfort of its boats and the quality of the service when dining. It works in partnership with different French chefs, such as Paul Bocuse and Marc Haeberlin.
Groups of 20 or more on CroisiEurope's Nile cruises receive certain benefits such as special rates, a free place for the group leader, group check-ins and welcome drinks.