Cruise & Maritime Voyages' first special fleet parade and regatta event will take place in Rotterdam.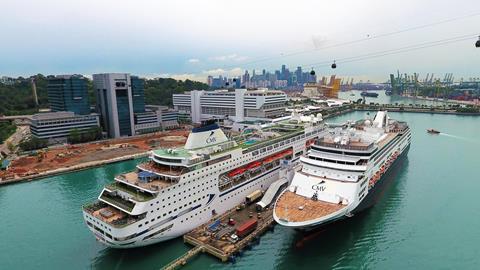 CMV has announced a special parade featuring its full fleet of seven ships, taking place on 28th August 2021. The event marks a number of milestones for the company: Amy Johnson and Ida Pfeiffer, its latest ship acquisitions, will debut in 2021, and Cruise Port Rotterdam will celebrate its 25th anniversary.
Chris Coates, CMV's group commercial director, said the event "will bring together over 8,000 cruise passengers onboard our fleet of seven cruise ships sailing from four British, two German and one French home port to Rotterdam".
The ships arriving in Rotterdam will stay at the port for the day before departure in the early evening. Quayside events are planned as are celebratory events in the city itself, which passengers can reach by shuttle bus.
Interested in ocean and river cruising?
Make sure you opt-in to receive our monthly 'Cruise Culture' e-newsletter for the best ideas and offers, news stories and features.
Find out how
All seven cruises convening in Rotterdam for the parade and regatta are suitable for groups, who receive an extra 5% discount if there are 12 or more adults. The planned sailings are:
European Waterways & Rotterdam Fleet Regatta: A seven-night cruise from Plymouth on board Marco Polo.
Arctic Voyage to Greenland & Iceland calling in Rotterdam for the Regatta: Amy Johnson, CMV's new flagship, will set sail for the first time in April 2021. In the late summer, she will sail from London Tilbury on this 22-night voyage.
Iceland and Rotterdam Fleet Regatta: Ida Pfeiffer is the second ship that CMV has taken delivery of recently. This 14-night itinerary sets sail from Kiel, Germany.
Fjordland & Rotterdam Fleet Regatta: Guests on board the 1,400-capacity Columbus will sail for seven nights on this tour of Norway.
River Seine Experience & Rotterdam Fleet Regatta: Magellan will set sail from Liverpool for this eight-night itinerary.
Scottish Treasures & Rotterdam Fleet Regatta: Astor will pair the regatta event with a seven-night cruise.
English Channel & Islands and Rotterdam Fleet Regatta: Groups can sail around the Channel Islands on board Vasco da Gama before the meet in Rotterdam. The cruise lasts eight nights.
Groups can now book cruises in CMV's 2021 programme, which can be found here. One free place is offered for bookings of 20 guests, and groups can receive preferential dining arrangements.