MSC Cruises has revealed that two new Cirque du Soleil at Sea shows are being created exclusively for their new ship, MSC Bellissima.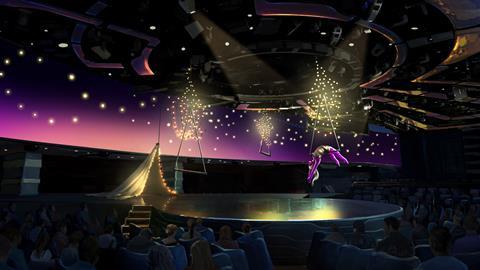 The shows, called SYMA - Sail Beyond Imagination and VARÉLIA - Love in Full Colour will be available on MSC Cruises' newest flagship when it launches in March 2019.
The two shows will be available exclusively to MSC Cruises' guests travelling on the MSC Bellissima.
MSC Bellissima's Cirque du Soleil at sea shows
The ship's carousel lounge has been specially designed for the needs of the Cirque du Soleil at Sea artists. Featuring state-of-the-art technology, a 360° rotating stage set in the middle of the lounge allowing guests to see the action from different angles, and a 40-metre long LED screen.
SYMA – Sail Beyond Imagination follows the journey of a young sailor who is brimming with imagination. The audience will be able to enjoy immersive video images, an original set design, bioluminescent lighting and acrobatic feats, all part of the show.
VARÉLIA – Love in Full Colour takes the tale of an unconventional courtship between a princess with distinctive violet skin and a charming hero who is blind and puts a futuristic twist on it with acrobatic feats, a laser show and a unique set design.
Further information on the exclusive shows
The new shows are part of the long-term partnership between the cruise line and Cirque du Soleil, which began in 2013 and has since seen a number of original shows that cannot be seen anywhere else in the world performed on MSC Cruises' ships.
Pierfrancesgo Vago, MSC Cruises' executive chairman, said: "The partnership with Cirque du Soleil is truly special. With the creation of Cirque du Soleil at Sea we wanted to bring our guests the very best in onboard live entertainment and more importantly something that they would not see anywhere else in the world."
Yasmine Khalil, chief executive producer, Cirque du Soleil and president of 45 Degrees, added: "We could not have wished for a better partnership where thanks to the purposely built theatre, the Carousel Lounge, our teams can unleash their creativity and continue to push the boundaries of entertainment at sea."
Booking information
The Cirque du Soleil at Sea shows must be pre-booked, either in advance or whilst on board if there are still seats available. Options to book a three-course menu before the show, a speciality cocktail and to view a pre-show that begins 30 minutes before the start of the performance are also available.
For more information, visit www.msccruises.co.uk/en-gb/Partnerships/MSC-Cruises-Cirque-Du-Soleil-Partnership.aspx.