This year's Blenheim Palace Flower Show will take place this June and will celebrate all things circus.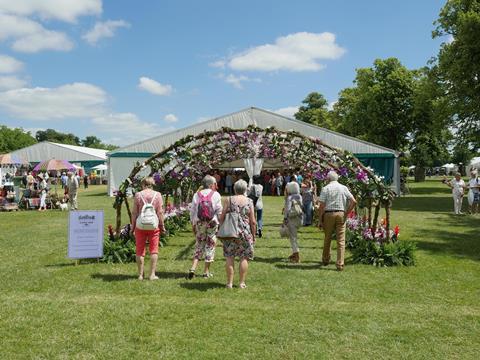 The gardening show event at the Oxfordshire attraction, now in its seventh year, will take place between 21st and 23rd June and will feature a series of new additions.
What to expect from the show
In keeping with the 2019 theme, members of the National Association of Flower Arrangement Societies will be making circus inspired floral designs using a variety of cut flowers.
The show's artistic director, Mig Kimpton, an award-winning designer, will also be embracing the theme by creating a floral carousel, following the success of the Orchid Tunnel he created for last year's show. He will also be hosting a series of floral workshops throughout the show.
Visitors this year will be able to explore ten new Plant Borders too, which have been created and curated on site by independent gardeners, each with their own theme.
At the centre of the show will be the 20,000 square foot Grand Floral Pavilion featuring more than 30 floral displays.
The Flower Show will also host 300 exhibitors located around the Grand Floral Pavilion, situated on the South Lawn of the Palace, which was the birthplace of Sir Winston Churchill.
This year, visitors can enjoy garden talks with experts and enthusiasts, food and drink, as well as an outdoor Plant Village and live entertainment across the weekend.
Further details
Show director Matthew Upson said: "Blenheim Palace Flower Show has really established itself as one of the great summer occasions and there couldn't be a finer setting for a flower show than the beautiful landscape of Blenheim Palace."
Admission to the show includes entry to the Park and Gardens, so visitors can also make a day of it exploring Blenheim Palace's Formal Gardens and 2,000 acres of 'Capability' Brown Parkland.
Group rates are available and GTOs can call 01993 815600 for more information.
For more information, visit www.blenheimflowershow.co.uk