Celebrity Cruises' new ship has sailed into its new home in South Florida in preparation for its inaugural season in the Caribbean.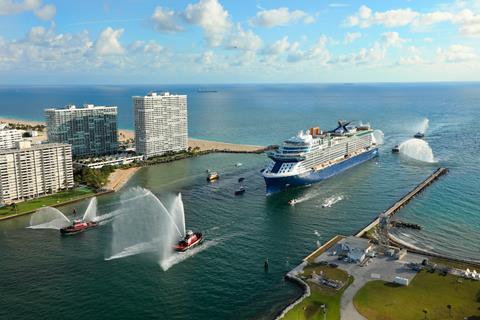 Celebrity Edge embarked on a transatlantic voyage of more-than 4,000-miles from France on 4th November 2018. The ship stopped at ports in Azores, Portugal, and in the Bahamas on its way to its new home within Port Everglades in South Florida.
Celebrity Edge's inaugural season will see it offering alternating seven-night eastern and western Caribbean itineraries.
The maiden western Caribbean voyage departs on 9th December 2018, while the first of its eastern Caribbean sailings departs on 16th December 2018. Regular sailings through the Caribbean will then continue into 2019 and through to 2020.
In spring of 2019, Celebrity Edge will cross the Atlantic to offer guests a range of seven to 11-night sailings in the Mediterranean, visiting cities such as Barcelona and Rome.
Celebrity Edge features
• The Grand Plaza: A new three-story venue that is described by the cruise line as the epicentre of Celebrity Edge. Home to restaurants including a Martini Bar, Café al Bacio and the new Grand Plaza Café.
• Magic Carpet: The size of a tennis court and what is thought to be the world's first cantilevered, floating platform that reaches heights of 13 stories above sea level along the ship's exterior.
• Resort Deck: Offering guests the chance to relax, enjoy the outdoors and connect with the sea.
• Rooftop garden: An outdoor area offering everything from live concerts to dinner and movies under the stars.
• Eden: Featuring three levels of sensory experiences, the glass venue looks out to the ocean and offers food and entertainment options. Daytime experiences will include 'meditation at Eden' and at night 'Eve at Eden' will provide performance art and nightlife.
Booking information
Booking for Celebrity Edge is now open. Celebrity Edge will be joined by her sister ship, Celebrity Apex, in 2020, and two additional ships in the Edge Series will follow in 2021 and 2022.
For more information, visit www.celebritycruises.co.uk/onboard/our-ships/celebrity-edge/.
Keep up-to-date with the latest cruise news by signing up to our monthly Cruise Culture newsletter: www.cruisemagazine.co.uk/newsletter.