Carnival Cruise Line has said the food and drink offer on board its Mardi Gras ship, which debuts in 2020, will be "unlike anything it has ever offered before".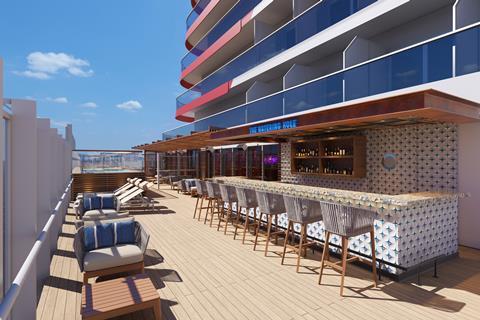 The new ship, which will set sail on its inaugural cruise in August next year, from Copenhagen to Southampton, will house a range of dining options in its all-new Lido and Summer Landing zones.
Christine Duffy, president of Carnival Cruise Line said: "Great food and beverage experiences are at the core of any holiday, especially at Carnival.
"We always strive to provide our guests with the most diverse options possible, but the sheer variety of food and beverage venues on board the Mardi Gras is unlike anything we've ever offered before.
"Our culinary and beverage teams continue to innovate, ensuring that we have an array of new and exciting options in addition to longtime Carnival favourites our guests love."
What's new?
Street Eats: An open-air eatery with three themed kiosks offering fried, steamed and plancha (skillet) dishes. Representing a variety of global cuisines and located next to Seafood Shack, the quick, grab-and-go venue will offer a daily rotating menu.

RedFrog Tiki Bar: The two-level RedFrog Tiki Bar is a twist on Carnival's regular poolside bar, serving rum-based cocktails, decked out with tiki heads, floral patterns and vibrant colours. Drinks on offer include the Polynesian Punch, Red's Rum Runner Jumper and Jungle Bird – presented in pineapples, souvenir tiki glasses and Mai Tai glasses with elaborate garnishes.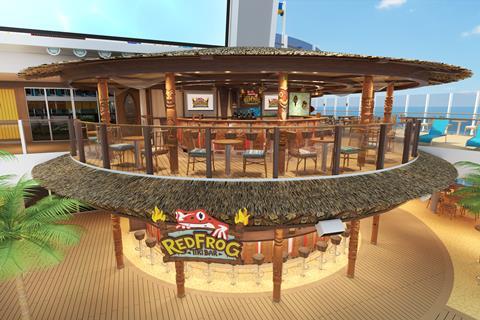 The Watering Hole: The Watering Hole is modelled on a "fun backyard gathering spot" and offers sea views. The bar will stock a wide beer selection including Carnival's own canned and draft brews, as well as more cocktails including Watermelon Cooler and Tequila Sunset.
More dining options on board
The second Big Chicken restaurant, created by former basketball player Shaquille O'Neal, features a host of dishes which aims to give guests a glimpse into the sportsman's family traditions.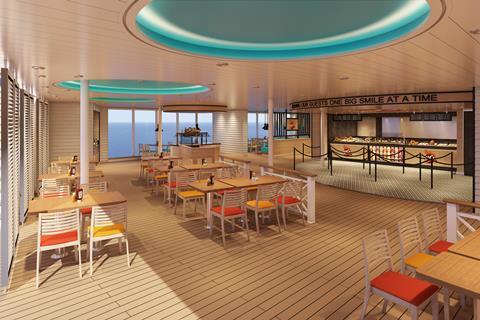 There will also be the largest Guy's Burger Joint in the fleet, developed by Food Network personality Guy Fieri.
About Carnival Cruise Line
The operator has 26 ships which sail around the world, providing trips to The Bahamas, Caribbean, Europe and Australia, to name just a few.
The line currently has three new ships scheduled for delivery - Carnival Panorama™ in 2019, Mardi Gras in 2020 and an as-yet-unnamed ship in 2022.
Groups looking to book onto one of the ship's cruises can make use of a "generous" deposit / payment scheme and special offers. For more information, visit www.carnival.com