Buckingham Palace will display the Coronation outfits worn by King Charles III and Queen Camilla for the first time as part of the Summer Opening of the State Rooms.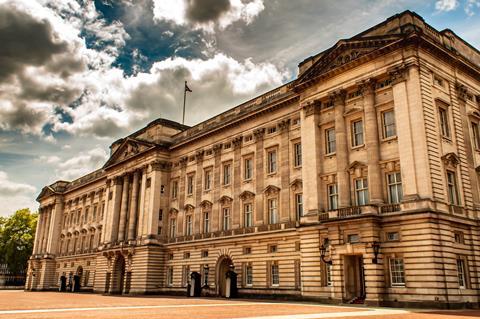 The annual opening, which runs this year between 14th July until 24th September, offers groups the chance to step behind the walls of the monarch's official London residence and walk through its glorious State Rooms and Garden.
The clothing will form part of a special Coronation display staged in the Ballroom to celebrate the historic service held at Westminster Abbey on 6th May. The centrepiece of the display will be the outfits worn by Their Majesties as they departed from Westminster Abbey in the Gold State Coach and then appeared on the Buckingham Palace balcony to greet the crowds.
Shown alongside these will be a selection of the historic vestments worn by The King at the moment of crowning, including the Coronation Glove, Girdle (or Sword Belt) and Stole Royal.
Groups of 15 or more can benefit from discounted rates on self-guided tickets. A guided Garden Highlights Tour can also be combined with the visit which highlights the Rose Garden and the King's private tennis court.
Highlights to look out for inside Buckingham Palace
The Robe of Estate worn by the King for his departure from Westminster Abbey was worn by his grandfather King George VI for his Coronation in 1937. It is made of purple silk velvet with gold lace. You will also see the King's cream silk overshirt, worn throughout the service, and the Purple Coronation Tunic, worn for departure from the Abbey.
Her Majesty Queen Camilla's Coronation Dress features silver and gold embroidered floral designs intertwined with celebratory bunting and the robe's design draws on themes of nature and the environment, featuring the floral emblems of the United Kingdom and a further 20 plants chosen for their personal associations.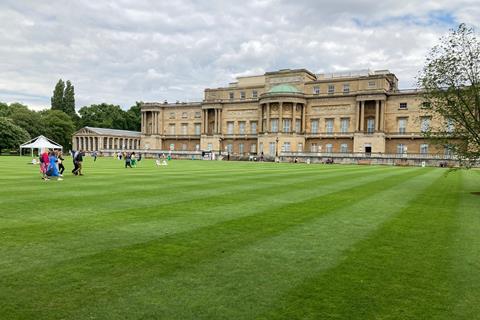 Groups will also have the chance to view up close some of the historic vestments worn by His Majesty as he was crowned. These include the Coronation Glove, worn to hold the Sovereign's Sceptre, and the Girdle which was worn around The King's waist so that the Jewelled Sword of Offering could be fastened to it.
The Stole Royal can also be seen, presented to His Majesty by His Royal Highness The Prince of Wales during the service. It is inspired by the stole worn by Queen Elizabeth II for her Coronation in 1953 and features a series of roundels, set in a gold chain framework and applied to cloth of gold.
Visitors to the Summer Opening of the State Rooms will also be able to see the Diamond Jubilee State Coach, used to transport the newly crowned royals to Westminster Abbey.
For more information about group visits to Buckingham Palace, go to www.rct.uk.