The palace will be the location of new informative evenings that will take place on selected dates throughout the year.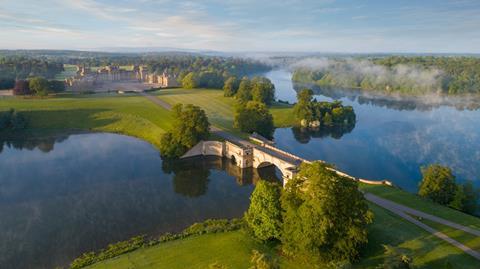 Blenheim Palace and its catering partner Searcys have unveiled a programme of fun and informative 'Supper Clubs' in the Orangery Restaurant, overlooking the Duke of Marlborough's private Italian Garden.
The evening events will cover a range of topics from J M W Turner and horticulture, to Winston Churchill and the work of a world-renowned chocolatier or a celebrity chef.
Each experience includes a talk from a guest speaker and a specially selected menu, tailored to the topic of interest.
Upcoming Supper Clubs
Taking place on 9th May, the evening will celebrate Winston Churchill becoming one of Britain's greatest Prime Ministers. Phil Reed OBE former director of IWM Churchill War Rooms will be giving a talk on the famous politician at the Palace, which is also Churchill's birthplace.
The evening will begin with a Champagne and canapés reception on the Orangery Terrace overlooking the Italian Garden. After learning more about what happened on the eve of Churchill's election, sit down for a three-course dinner including wine, coffee and chocolates.
The next event will be on 13th June, and will explore the history of Blenheim Palace, which was built in the early 18th century to celebrate victory over the French in the War of the Spanish Succession. Experience the grandeur of the palace's architecture and graceful interiors with a Champagne pairing dinner.
Arrive to Laurent Perrier reception with canapés on The Orangery Terrace overlooking the Italian Gardens. Sit down to a three-course tasting dinner inspired by the paired wines.
On 11th July, take a tour of the International Garden Photographer of the Year Exhibition followed by a talk from Financial Times gardening columnist Robin Lane Fox on how to be a better gardener.
Discuss your favourite photographs over a glass of English sparkling wine and canapés before hearing gardening tips and tricks from Robin in The Orangery. Following the talk, sit down to a three-course dinner of fresh produce and fine wines.
On 12th September, experience a Harvest Supper against the backdrop of Blenheim Palace's lush gardens, enjoy a three-course dinner designed by Mark Hix and inspired by his new recipes.
Finally, on 25th October, discover world-renowned chocolatier William Curley who has won the Academy of Chocolate's 'Britain's Best Chocolatier' award four times. Supplying some of the world's greatest restaurants, hotels and food halls, Curley lives, breathes and eats chocolate.
Visit Blenheim Palace and enjoy a three-course dinner inspired and cooked by Curley with a tutored tasting of chocolate truffles and other cocoa-based treats. Whet your appetite for Curley's creations with a Champagne reception and delicious savoury canapés.
For more information, visit www.blenheimpalace.com.