Back to the Future the Musical will debut on a 12-week run at Manchester Opera House on Thursday 20th February 2020, before moving to the West End.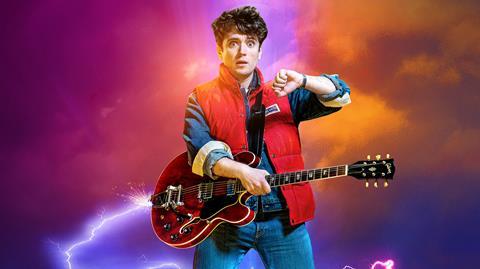 Based on the 1985 fantasy adventure film starring Michael J. Fox and Christopher Lloyd, Back to the Future the Musical will run for a strict 12-week season in Manchester, finishing on 17th May 2020.
Olly Dobson will take on the role of Marty McFly, having previously appeared in the West End's Bat Out Of Hell the Musical and Matilda.
Tickets will go on sale from 10am next Friday (24th May), with further casting announcements still yet to be made.
Reaction
Bob Gale, who wrote the original film with Robert Zemeckis, said: "We've been trying to get this project off the ground for years, but good things take time and finally, the time is right.
"Our cast is outstanding, the songs are fantastic, and director John Rando is doing an amazing job ensuring the show truly captures the magic of the movie."
Christopher Lloyd, who played Doc Brown in the original film said: "Ever since Bob Gale told me about this, I've been eagerly anticipating it and, in particular, wondering what it will like to hear Doc Brown sing.
"I'm really looking forward to attending the opening in Manchester to experience our wonderful movie as a musical. I'm only sorry I don't have a real time machine so that I could see it tomorrow."
Producer Colin Ingram added: "This show has been six years in the making and we are delighted to be showing it to the people of Manchester first before the rest of the world gets to see it."
About the show
Produced by Colin Ingram (Ghost the Musical) and the creators of the original film, Robert Zemeckis and Bob Gale, Back to the Future the Musical is a musical adaptation of the film, also including The Power of Love and Johnny B. Goode from the original soundtrack.
The new musical will have a book by Bob Gale and new music and lyrics by the Emmy and Grammy Award-winning Alan Silvestri and Glen Ballard.
It will be directed by John Rando (Urinetown, On The Town) and will follow the first storyline of the original film as Marty tries to save his parents' marriage at the school dance back in 1955.