This year's anniversary tour of The Rocky Horror Show has been extended after several sell-out performances.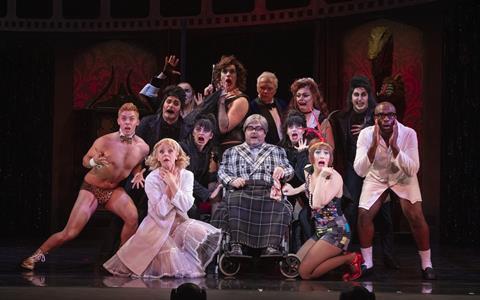 The show has extended its run until 2nd September, visiting the likes of the Peacock Theatre in London (3rd May - 10th June), Leeds Grand Theatre (27th June - 1st July), Aylesbury Waterside Theatre (3rd - 8th July) and The Cliffs Pavilion in Southend (14th -19th August). Group rates are venue specific.
Since Richard O'Brien's rock 'n' roll musical first opened at London's Royal Court Theatre in June 1973, it has become the longest continuous run of a contemporary musical anywhere in the world. The show has been seen by more than 30 million people worldwide in over 30 countries and translated into 20 languages.
Producer Howard Panter said: "Rocky Horror has always been a show I loved, since its earliest days in the Kings Road. Richard O'Brien and I are delighted this non-stop party continues to thrill audiences across the world, and we look forward to the next 50 years."
West End star Stephen Webb continues in the role of Frank, Philip Franks plays The Narrator, Richard Meek returns as Brad and is joined by Haley Flaherty as Janet.
The main cast is completed by Kristian Lavercombe who reprises his role as Riff Raff, Darcy Finden as Columbia, Ben Westhead plays Rocky, Suzie McAdams takes on the role of Magenta and Joe Allen plays Eddie & Dr Scott.
About the show
The Rocky Horror Show is the story of two squeaky clean college kids – Brad and his fiancée Janet. When by a twist of fate, their car breaks down outside a creepy mansion whilst on their way to visit their former college professor, they meet the charismatic Dr Frank'n'Furter.
It is an adventure they'll never forget, filled with fun, frolics, frocks, and frivolity. The Rocky Horror Show famously combines science-fiction, horror, comedy and music while encouraging audience participation.
In 1975 it was transformed into a film called The Rocky Horror Picture Show which took more than $135 million at the Box Office. Many stars including Russell Crowe, Tim Curry, Susan Sarandon, Jerry Springer, Jason Donovan and Meatloaf have appeared in The Rocky Horror Show over the past 45 years.