Organisers of the Group Leisure & Travel Show and the annual GLT Reader Awards have announced that the 2020 events will be staged in Milton Keynes following overwhelming positive feedback from 2019 participants.
The exhibition, held at the Marshall Arena, Stadium MK, on Thursday 10th October was a sell-out with many visitors and exhibitors hailing it a "great success".
Group organisers and coach operators from across the country travelled to the new venue to pick up ideas, exclusive deals as well as speaking face-to-face with a host of attractions, tourist boards, holiday firms and cruise lines.
Visitor June Holland, who organises trips for the Kier Group Fellowship Trust, was typical saying: "This year in Milton Keynes has been excellent. We've found a complete mix of different attractions here that we've never seen before, so it's been really good."
See the photo gallery from the show
This year's Seminar Theatre was packed out throughout the day with three popular talks by cruise expert Julie Peasgood, travel guru Simon Calder and TV presenter Kate Humble.
"It has been super being in Milton Keynes; there's plenty of room, the parking is so much better and everything is so much easier to get to, I think there has been more people too."

Janet Spooner, group travel organiser, Travel Treats
Simon Calder spoke about 25 years in travel sharing stories and pictures with visitors about some of the many changes he has seen in travel over the years.
Speaking afterwards he said: "I think the new venue in Milton Keynes is great; it really is just exactly the right scale. It feels really friendly and like its own exhibition rather than being part of the NEC – it works very well."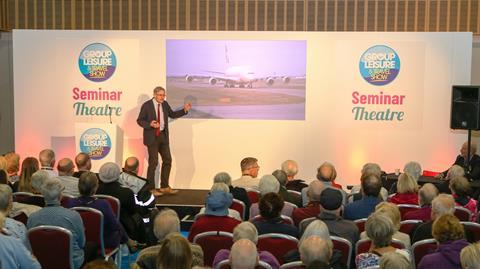 The original plan was for both events to return to Birmingham next year but the organisers have said the overwhelming message from group organisers and the trade was that Milton Keynes is an ideal location.
Show director Graham Yandell said: "Our research indicated that Milton Keynes would be a good move and it proved to be the case, but it's very important to remember that this is the start of the story and not the end of it.
"We are really delighted with the response and that the 2019 show had more exhibitors than in 2018 and also that footfall was up. However, we have already identified several key improvements we shall bring in for next year and our surveys now going out will give us valuable feedback that we shall act upon."
The 23rd Group Leisure & Travel Awards ceremony took place the night before at the adjacent DoubleTree by Hilton Hotel, hosted by TV presenter and rugby star Martin Bayfield.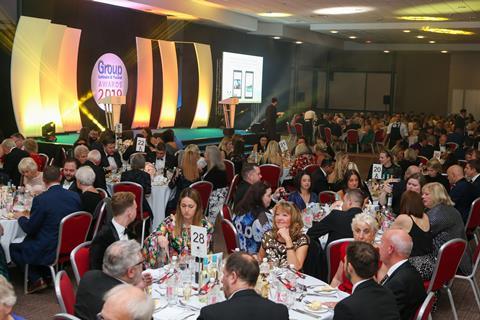 Harold Burke, sales director for just for groups! which won Best Group Tour Operator – Long Haul, said: "It was a great night, everything ran to the usual high standards. For us, they're the only events on the calendar that are really aimed at groups and bring them all together in a convenient location."
See the Awards photo gallery & video
The 2020 dates
The Group Leisure & Travel Awards ceremony will take place on Wednesday 7th October at the DoubleTree by Hilton Hotel, Stadium MK, Milton Keynes. For more information visit groupleisureandtravel.com/awards
The Group Leisure & Travel Show will take place on Thursday 8th October at the adjacent Marshall Arena, Stadium MK, Milton Keynes. For more information visit grouptravelshow.com
Visitors and exhibitors posted on social media about their experiences of the show; here's just a few:
Great to see top class speakers at the @GroupTravelShow today - so good that every seat for each seminar was always taken. Wonderful atmosphere and a very productive day that never let up! https://t.co/MaOZ4YIovR

— Harold Burke (@haroldburke2005) October 10, 2019
The team from @DunwoodTravelUK have been taking our visitors back into the medieval times with the help of one historical figure. Grab a chat on Stand 151 pic.twitter.com/GyO9DEmvcH

— GLT Show (@GroupTravelShow) October 10, 2019
#GLTShow @SimonCalder came to see us on our @VisitSkipton stand 725 at @GroupTravelShow Sir Clifford of @SkiptonMarket was here also! Fun 😁😁 #skipton pic.twitter.com/VfuEHxAE8g

— Skipton Ambassador (@town_ambassador) October 10, 2019