A series of productions will take to the stage at Regent's Park Open Air Theatre throughout 2020, ranging from a much-loved childrens' favourite to one of Shakespeare's classics.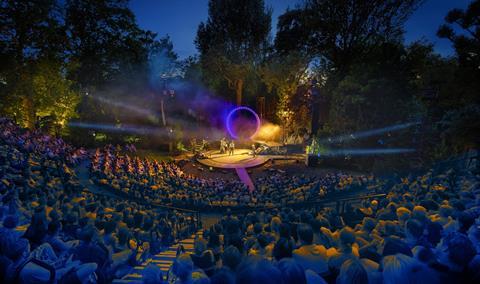 The London theatre will open its theatre season with its first newly commissioned musical, 101 Dalmations, that will run from 16th May until 21st June.
Based on Dodie Smith's lovable tale of the same name, the production is directed by Timothy Sheader and features music and lyrics by Douglas Hodge.
Kimberley Sykes then directs Romeo and Juliet (27th June - 25th July), following the timeless story of two young people torn apart by a divided society and forbidden love.
Rodgers and Hammerstein's Carousel will conclude the season, running from 31st until 19th September, featuring a score that includes If I Loved You and You'll Never Walk Alone.
Director Timothy Sheader will reunite with Jesus Christ Superstar choreographer Drew McOnie for the show.
What else to look out for
Also during the season, Nicoll Entertainment presents Dragons and Mythical Beasts (11th August - 6th September), a new 50-minute daytime show written by Derek Bond.
The show is produced by the same team that created Dinosaur World Live, taking audience members 'into a magical world of myths and legends'.
About Regent's Open Air Theatre
Regent's Park Open Air Theatre is one of the largest theatres in London and was established in 1932, situated in the beautiful surroundings of a Royal Park.
Both its stage and auditorium are entirely uncovered, with the theatre celebrated for its bold and dynamic productions (The Turn of the Screw, Little Shop of Horrors, The Seagull, Porgy and Bess, The Crucible, Henry V), with audiences of more than 140,000 each year during its 18-week season.
For more information about tickets and the shows playing at the Open Air Theatre across next year, visit www.openairtheatre.com