Christine Bennett, who runs Deaf Group Holidays, was crowned the 2020 Group Travel Organiser of the Year. We caught up with her to find out if the news had sunk in and more about her group.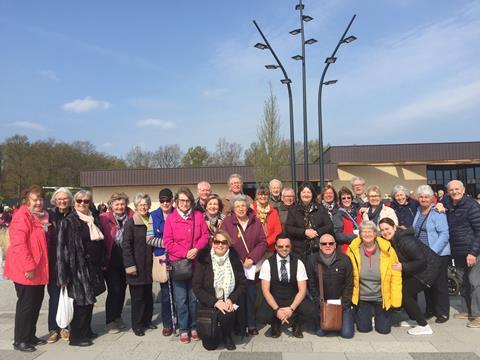 What did it mean to you when you discovered you had won the GTO of the Year Award® during the online ceremony in October?
It means a lot to me. It shows that as a deaf organiser, I can do it. It has increased my confidence to organise more trips.
What has the reaction been like from your group members?
More and more deaf people have contacted me to enquire about my holiday programme. My reputation has soared, and it was an honour to be interviewed on BBC Look North.
I have received so many congratulatory messages from my friends and relatives – the deaf and hearing people have been over the moon.
Tell us about some of the trips you have planned for 2021 and 22.
Unfortunately, the pandemic has messed things up this year and so several holidays have been postponed to 2021 and 2022. But so far next year, I have holidays to Morocco, Lake Maggiore, Italy and Prague as well as cruises in Norway, along the River Thames, Croatia and the Mekong as well as a New Year Festivities Romantic Rhine trip at the end of the year.
Can you tell us more about your group?
I set up Deaf Group Holidays about three years ago because I realised there was a lack of provision for deaf people going on holiday. The group enables deaf people to travel with peace of mind knowing that they have a qualified British Sign Language (BSL) interpreter throughout their trip to provide communication, support and to ensure they get full access to information.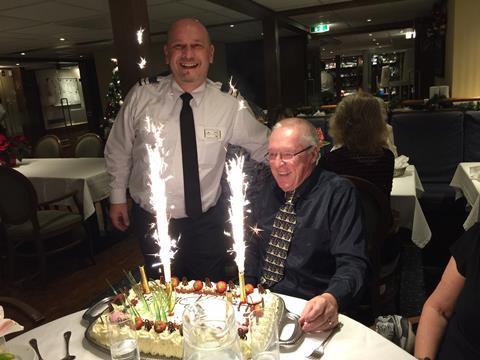 By travelling in this group, members can fully socialise together during their holiday because there are no communication barriers. Events are arranged on each trip including fancy dress themed evenings, activities, raffles etc. to promote a friendly social atmosphere.
How do you promote your trips and tours?
I regularly send out my holiday programme to all group members by email or post and I also usually have regular meetings in the north and south where I do presentations and Q&A sessions. The group meetings also serve as a social event for members all over the country, some of whom live alone. I also have a Facebook page where photos from group holidays can be shared alongside any notifications regarding upcoming trips.
What are the most popular types of trip for your group?
River cruise holidays have been extremely popular; travelling on a smaller ship has worked well allowing deaf members to be together and communicate better. Our recent cruise along the Danube was wonderful and we received some excellent feedback from members. Deaf members have also enjoyed trips we have done by coach from the UK to other destinations abroad, including Austria and Ireland. Short city break holidays, for example Krakow and Prague, prove very popular too
About the GTO of the Year Award®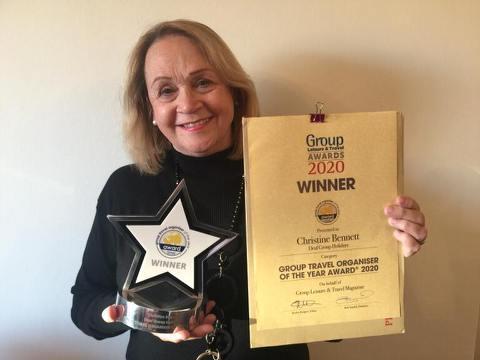 This very special award, part of the Group Leisure & Travel Awards, recognises great group travel organisers who go the extra mile to ensure their group have fantastic trips and memorable experiences. It comes with a prize of £2,000 to spend on a future holiday.
If you know somebody who deserves to win Group Travel Organiser of the Year 2021, you'll find more information here. Nominations and entries will open in spring 2021.
Watch the ceremony replay on-demand, including the moment Christine discovered she had won, here.
How do you overcome challenges?
It's about confidence. I have to be really strong and quick thinking as well as very calm and professional. When things go wrong it can be stressful. For example, we went to Israel last year and we had a problem with one of the guides. I had to be really firm. Overall, the holidays have been really successful. I give out wristbands to the people on holiday which the deaf people find helpful because if they get lost, they know if people are part of the group, especially on tours or on big cruise ships. I have a flag as well so I can be a focal point for when we're doing the tours and things.
What could help the future of the group travel industry?
More accessibility for deaf people. I would like to see greater deaf awareness within the industry too and people having a basic knowledge of sign language - for example airport ground staff and in-resort reps. I do hope that the future brings wider accessibility for deaf people abroad. The other thing that would help is having close circuit video on coaches so that the BSL Interpreter can remain in his/her seat while the coach is in motion and at the same time the interpreter can explain what the tour guide says.
Christine's group at a glance…
Group name: Deaf Group Holidays
No. of members: 145
Time organising: 10 years
Favourite destination: the Douro River in Portugal