Wales has named 2019 its Year of Discovery. So, whether you're looking to discover the country's heritage, landscapes, or hidden gems, there could be no better time to head to Wales.
From dramatic landscapes, to Medieval castles, mountain ranges, a thriving culture and an endless amount of exciting attractions, there is plenty for groups of all ages and interests to discover in Wales.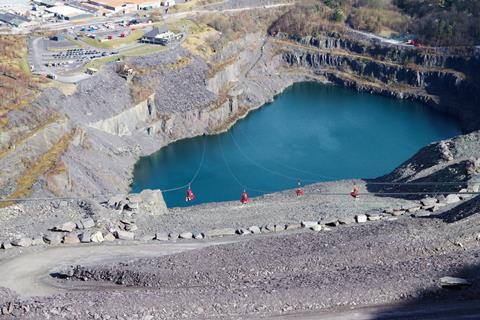 For the thrill seekers
Wales' coastline provides the perfect opportunity for thrill seekers to experience it in a unique way.
Head to the Blue Lagoon in Pembrokeshire and you'll find that there are plenty of opportunities to experience an adrenaline-inducing coasteering or cliff diving adventure. Meanwhile, Morfa Bay Adventure in Carmarthenshire offers a range of coastal activities, including bodyboarding and sea-kayaking but if you want to experience the coastline from a new angle, the company also offers abseiling sessions in Pembrokeshire or the Gower Peninsula.
Step things up a notch, with a trip to Cardiff International White Water, where groups can find themselves enjoying rapid rafting sessions, or head to the National White-Water Centre at Bala to take on the fast-flowing Afon Tryweryn.
Or, if you'd rather not get wet, then head into the Snowdon range in North Wales where you'll find Penrhyn Quarry, home to what is thought to be the fastest zip line in the world. Fly 500m above the quarry lake on Velocity 2, reaching speeds of over 100mph as you take in the breath-taking views below you and experience the freedom of flight.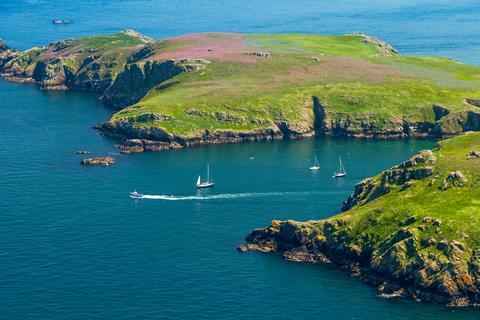 Active adventures
If jumping off a cliff or hurtling down the world's fastest zip line isn't for you, but getting out into nature is, Wales still offers plenty to see and do outdoors.
Take in the West Wales landscapes, which incorporates everything from mountain passes to remote hill-top lakes, meandering rivers, stunning coastlines and luscious valleys during a group cycling tour with Crys Melyn Cycling. Suitable for everyone, the company offers gentle paced rides along quiet country lanes and tracks, as well as challenging mountain climbs and exhilarating descents.
Active groups will also benefit from The Wales Way. Part of a ten-year development plan to encourage more visitors to the area, the three national touring routes cross the country's most epic landscapes and showcase its fascinating history, coastlines and attractions. Groups will be pleased to know that part of the plan consists of introducing more bookable group rates around The Wales Way.
On the North Wales Way, for example, group rates are now available at Llangollen Railway, Valle Crusis Abbey, Denbigh Castle and Towne Walls, Rhuddlan Castle, Welsh Mountain Zoo, Penrhyn Castle and Gardens, Zip World Bethesda, Caernarfon Castle, Beaumaris Castle and Snowdon Mountain Railway.
Wales is home to some spectacular landscapes, but it also has some excellent diving spots, particularly in Pembrokeshire and Anglesey. Keep your eyes peeled for seals and dolphins as you dive in the Skomer Marine Reserve, where experienced divers will be able to descend to visit the wreck of the Lucy. For newer divers, St Brides Haven Beach is a popular option, where lobsters, crabs, wrasse, pollack and dogfish can be spotted.
Wildlife lovers will most likely already know that it is more than 200 years since golden eagles were commonly seen in the skies over Wales. But, with the opening of the British Bird of Prey Centre at the National Botanic Garden of Wales, the birds can once more be seen in the country. And groups can now enjoy close-up encounters with various birds of prey including eagles, hawks, falcons, kestrels, kites and buzzards on site.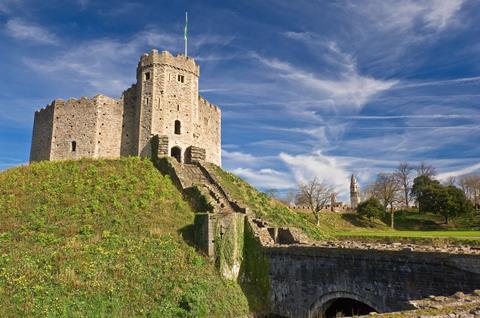 Historic places
As well as its beautiful landscapes, Wales is also home to fascinating history and heritage and wherever you go in the country, you'll find yourself within easy reach of castles and landmarks.
There is Pembroke Dock Heritage Centre, where groups can benefit from special rates, and can explore more than 200 years of maritime, military and social history. But if it's castles you're after, then Wales has plenty of them for you to visit too. Stroll around the town walls of Conwy Castle, visit Pembroke Castle where groups can enjoy guided tours or head into Cardiff Castle in the heart of the capital city.
If that doesn't do it for you, there's also the National Museum Wales, which is a group of seven museums located throughout Wales and the Royal Mint Experience, a South Wales attraction detailing over 1,100 years of history and the only place in the world where you can watch the UK's coins being made.