Based on data released by Visit Wales, we round up the top ten free attractions to head to in Wales.
From arts and culture, to natural areas of beauty, Wales is home to a multitude of places that can be explored for free. So, whether you're looking to explore a museum, or get out into nature on a walk through a forest, here are the top ten free attractions you should add to your itineraries.
1. Wales Millennium Centre
Number one on the list of free attractions to visit in Wales is, perhaps unsurprisingly, the award-winning Wales Millennium Centre. Located in Cardiff Bay, the centre is a hub for arts and culture and plays host to a number of exhibitions throughout the year, as well as providing a world-class stage for a range of performances from major musicals to ballet, opera, and contemporary dance. Behind the scenes tours are available for groups wanting to gain that extra insight.
2. Snowdon Summit Visitor Centre
Nature wins out for the second-place spot on the list. Located 1,085m above sea level is the Snowdon Summit's Visitor Centre. Trains travel to the Summit from May to the end of October and to Clogwyn ¾ of the way up the mountain during March and April. Upon arrival railway passengers and walkers are welcomed in to a modern contemporary environment and can enjoy views that stretch as far as Ireland on a clear day. Heritage Steam experiences and Traditional Diesel Services are available, along with group discounts for parties of 25 or more.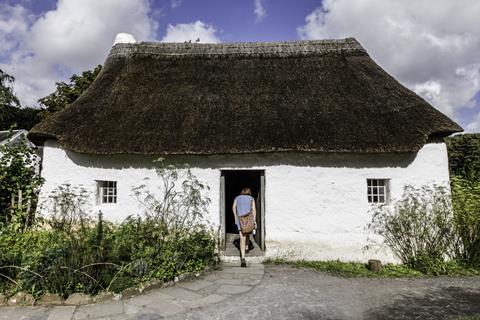 3. St Fagans National Museum of History
From art, to nature, to heritage. Next up is St Fagans National Museum of History. Lose yourself in what is thought to be Wales' most popular heritage attraction. Set in over 100 acres of parkland, the 50 original buildings have been moved from all over Wales, stone-by-stone and re-located at the Museum. Explore the farmhouses and cottages, along with a schoolroom, post office and Medieval church, during your visit.
4. National Museum Cardiff
Visitors to the National Museum Cardiff can discover art, natural history and the geological evolution of Wales, all under one roof. Take in art and natural science collections from Wales, and beyond, which include dinosaurs and woolly mammoths before admiring the art collections featuring works by Monet and Rodin, among many others.
5. Pembrey Country Park
Whether you want to enjoy the freedom of being able to wander around 2,020 hectares of glorious parkland, or you want to take advantage of an award-winning golden sandy beach, a trip to Pembrey Country Park will allow you to do both, and much more. Featuring everything from a dry ski slope, to a toboggan ride, crazy golf, train rides, an equestrian centre and a variety of nature trails, there really is something for groups of all kinds.
6. Newborough National Nature Reserve
If the weather permits it, be sure to take the time to explore the evolving landscape, of the Newborough National Nature Reserve, which consists of dunes, marshes, woods and grasslands. With waymarked walking trails, the reserve provides a great day out for groups looking to enjoy a bit of fresh air. Walks include the Red Squirrel Trail, which will see walkers meet Sara the red squirrel, and the Saint, Sand and Sea Trail which will take you on an adventure in the forest, dune and island, providing an insight into the geological and culture features of Newborough, as well as its history and the legend of St Dwynwen.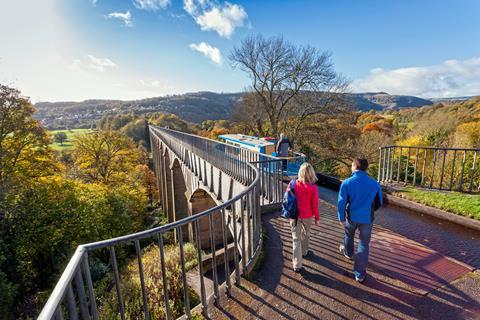 7. Pontcysyllte Aqueduct
Wales is home to a whole host of spectacular views, and those wishing to enjoy some of its vistas, at the same time as visiting a World Heritage Site, will want to have the Pontcysyllte Aqueduct on their radar. You can walk across Pontcysyllte or save your legs and enjoy a leisurely boat ride but either way, be sure to have your camera to hand.
8. Cardiff Visitor Centre
Not an attraction in its own right, but definitely somewhere to head to if you're wanting to make the most out of your trip to Cardiff and you want the low-down on all of the local sites, is the Cardiff Visitor Centre. Whether you're visiting Cardiff for the first time, or you're just looking for new ways to experience the city, the centre is a hub of information and holds everything from bus timetables to accommodation information, souvenirs and gifts.
9. Gwydir Forest Park
Head into the heart of Snowdonia and you'll find Gwydir Forest Park. A forest of lakes and mountains, the park is home to a wide range of activities, as well as a huge amount of wildlife. Those wanting to explore on foot will be pleased to know that there are plenty of tracks, old miners' paths, cycle trails and forest walks. A popular choice amongst visitors is the walk to the viewpoint over the cascading waters of Swallow Falls.
10. St David's Cathedral
Set on a Pembrokeshire peninsula, St David's Cathedral has been a site of pilgrimage and worship for more than 800 years but today, the building houses a number of exhibitions and collections that can be explored by visitors. Head to the Treasury, which contains items detailing over 1,500 years of history, the Gatehouse which is home to an exhibition on the history and life of the cathedral and the new Cloister gallery area in St Mary's Hall during your visit. Groups of all ages are welcome at the cathedral, and guided tours can be booked.