GLT went along to the press night of Wicked to welcome in the all-new cast, including Gary Wilmot as The Wizard and Lucie Jones as Elphaba.
"Glinda, is it true that you're her friend?"
And so begins Wicked, based on Gregory Maguire's multi-million-copy best-seller, Wicked: The Life and Times of the Wicked Witch of the West, as Glinda recounts the tale of her doomed friendship with 'Wicked Witch' Elphaba.
The new cast of Lucie Jones as Elphaba and Gary Wilmot as The Wizard, together with Helen Woolf returning as Glinda, do not disappoint and had the audience in rapturous applause.
Jones portrays a deadpan 'Elphy', the subject of Glinda's makeover project in an attempt to make her new friend more popular with their college peers, while 'His Ozness' Gary Wilmot struts the stage, looking the part in top hat and tails, delivering solos including Wonderful.
Munchkinland, meanwhile, is depicted in all its fantastical glory with the set, as ever, every shade of green, and a backdrop that splits open to reveal stormy imaginings, all topped with the red-eyed dragon suspended overhead and flanked by over-sized cog wheels that turn menacingly.
Glinda and Elphaba's arrival at the Emerald City is dazzling, the stage lit in sparkling green hues from every direction, the rest of the cast in haute couture costumes of ruffles and petticoats.
The script's wonderful word play, from the made-up Oz-ians to "deeply-shallow" oxymorons, underpin its poignant spoken truths, a commentary on smoke and mirrors that is perhaps even more relevant today than when it was written in 2003. As Doctor Dillamond, the Goat, puts it: "If you make it discouraging enough, you can make anyone silent."
Jones depicts Elphaba's growth as she becomes ever-more witch-like in power and appearance, her shapeless gowns cinching into bejewelled bodices as she finds her voice and declares that she's "through with playing by the rules of someone else's game", as Glinda twitches nervously behind her.
A stand-out moment is during Defying Gravity, as Elphaba rises magnificently above the stage, emblazoned in shafts of light, as a witch hunt encircles beneath her. However, Elphaba's fate is later to be sealed, as a curtain across the stage creates the silhouette depicting water being thrown over her. As Glinda looks on, Elphaba melts away… Or does she?
About the new cast
Actor, singer, comedian, impressionist and presenter Gary Wilmot has a career spanning across four decades and most recently played Jethro in The Prince of Egypt and Elisha Whitney in Anything Goes.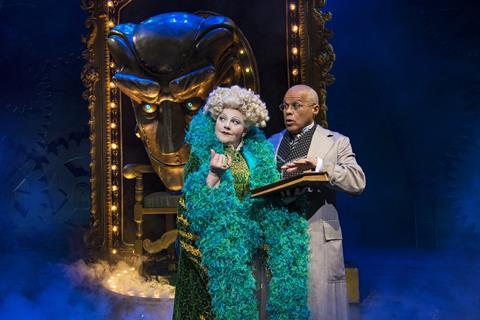 Lucie Jones came to national prominence as a finalist in ITV's The X Factor in 2009 and appeared as Jenna Hunterson in the UK tour of the musical Waitress, a role she previously played in the West End.
Wicked has been seen by over ten million people in London alone and has won over 100 international awards including three Tony Awards, two Olivier Awards and a Grammy Award.
Wicked is playing at the Apollo Victoria Theatre in London and is currently booking groups until May 2023. For group bookings and more information, visit www.wickedthemusical.co.uk.