Gwen Wright, organiser for the Arts Society Cranleigh, reports back from a delightful group holiday to Ireland sharing their highlights from visits to County Waterford and Dublin.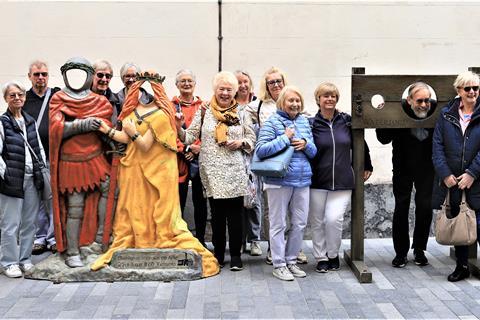 23 of us set off on Sunday 12th June, complete with all wet weather clothes – but did we need them? Emphatically and thankfully no! There were also no airport queues and spacious ferries gave us delightful crossings both ways. We travelled to Waterford via the Fishguard-Rosslare ferry.
What did we see? What did we do? Well, we stayed for three nights in Waterford exploring the town and the area – and what jewels there were to enjoy.
We began by feasting on Viking to Medieval history in Waterford with arguably the best guide ever. We did an epic walking tour of the Viking Triangle, taking in the Medieval Museum, Bishop's Palace and Waterford Crystal.
Other joys were visiting the Kennedy Homestead and the Famine Ship – The Dunbrody. We learned of the horrors of the great famine and emigration to America. Must not forget the oldest working lighthouse in the World at Hook – what a beauty!
About Waterford
Ireland's oldest city is a treasure-trove of ancient artefacts, elegant architecture and local food. Trade with Newfoundland brought affluent members to settle at Waterford in the late 18th century, turning the city into one of the great ports of Ireland and kickstarting a building boom. Visitors can still feel the presence of the Vikings today, not least with Reginald's Tower, the city's landmark monument which is at the heart of The Viking Triangle.
Other attractions include the Medieval Museum, Bishop's Palace and Waterford Crystal.
En route to Dublin we learned about the rebellion of 1798 as part of a visit to the National 1798 Rebellion Centre and the Liberty Tree.
Further delights awaited as we headed for Dublin for two nights. We went to Trinity College on Graduation Day and saw the The Book of Kells there. We also had a great time at the Guinness Factory and not least the wonderful cèilidh on our last night at the Merry Ploughboy…plenty of Craic!
Tell us about your trip
If you've been somewhere recently that your group particularly enjoyed, we'd love to hear about it. Get in touch by emailing editorial@groupleisureandtravel.com

Gwen Wright organises trips for The Arts Society (Cranleigh branch). She has been a GTO for more than 20 years and her group is made up of about 300 members. When asked about what makes an ideal Arts Society trip, Gwen said: "It's fundamentally about the different people getting together and enjoying themselves."