Cruise writer Jeannine Williamson reports back from a tall ship experience with Star Clippers.

As we reach Royal Clipper's gangway on a balmy Caribbean afternoon, it's clear this voyage is going to be completely different from any other cruise. We crane our necks at the five masts with neatly furled sails towering overhead and pause to read a chalkboard welcome sign stating our next stop is Ponta Delgada, the capital of the Azores, and 2,193 nautical miles and eight days away from where we stand in Barbados.
Little do we know we're actually going to be all at sea - quite literally - for a total of 16 days without setting foot on dry land, but that later becomes part of the thrill of our seafaring adventure that's an ocean, indeed a world, apart from your average sailing.
Transatlantic crossings tend to conjure up quintessential images of grand liners carrying thousands of passengers who don their best bib and tuckers for dinner and participate in genteel deck games. We were about to follow the same route in a 439ft tall ship carrying just 227 passengers and the 'chalk and cheese' dissimilarities between the two were encapsulated by a 16-deck cruise ship that moored nearby and dwarfed Royal Clipper.
For thrill-seeking groups hankering after an experience akin to the ever-popular television series The Onedin Line, a sailing with Star Clippers - particularly across the vast Atlantic - is the closest you're going to get.
The line, comprising Royal Clipper and its two smaller sister ships Star Clipper and Star Flyer, is the result of the boyhood dream of Swedish entrepreneur and classic boat enthusiast Mikael Krafft, who set out to recreate modern ships replicating the golden age of sail in the 19th century combined with home comforts. Inspired by the German windjammer Preussen launched in 1902, Royal Clipper holds the Guinness record as the world's largest full-rigged ship in operation.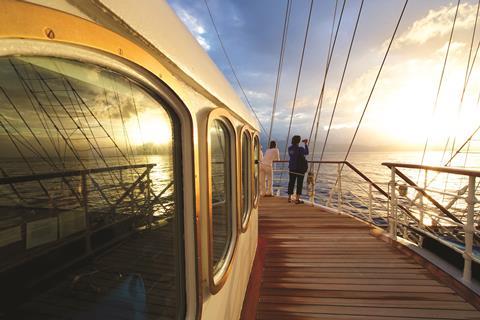 That night, as the first warm gust of wind filled the 42 creamy sails covering surface area of nearly 66,000 sq. ft., it was a real goose bump moment as Royal Clipper left Bridgetown harbour to the dramatic sound of Conquest of Paradise by Vangelis, the stirring soundtrack from the film 1492 which is Star Clippers' trademark sail-away music.
The demands of the 21st century mean the ship has to average some 10 knots to arrive at the final destination on schedule, so it sails under engine power or a combination of engines and sail some of the time. However, this doesn't detract from the sight of the gleaming teak decks, crew members busying themselves amongst the network of ropes and pulleys and the combined spectacle of the vision and sound of the bow - decorated with a beautiful golden figurehead - cutting through the waves.
I was among many passengers that had stashed a pile of books in my suitcase, thinking there would be endless hours to fill. Royal Clipper's well-stocked library aside, this certainly wasn't the case.
In between lounging on the deck, where there are three small splash pools, the bowsprit nets were perfect place to spot the spectacle of dolphins, flying fish and the occasional whale in the uninterrupted ocean vista that was occasionally broken by a distant cargo ship.
There were plenty of befitting maritime activities too. Those with a head for heights climbed the mast to the first crow's nest 50ft above the deck and we tried knot-tying, with varying degrees of success, and giggled while making the wonderfully named baggywrinkles which prevent the sails from chafing against the rigging.
I particularly enjoyed insightful lectures by officers on topics including navigation, chart reading, oceanology and tales of maritime folklore such as the fearsome tentacled sea monster Kraken, which superstitious ancient mariners blamed for dragging entire ships to their doom. Most notable was a star-gazing session where we took part in a celestial game of dot-to-dot, picking out The Plough, Leo, Gemini and Virgo, all outshone by the brightest of them all, Sirius. It was breath-taking.
Fun-filled deck activities, such as a light-hearted Olympic Games where different nationalities carried their flags aloft, are great for groups and the transatlantic 'christening ceremony' performed by King Neptune himself provided an unforgettable photo opportunity. In between there were three hearty meals, plus the popular hot and cold happy hour snacks, so there was never any time to get bored. The ship also has Captain Nemo's spa and gym, so-called as it's situated below water level with portholes beneath the ocean.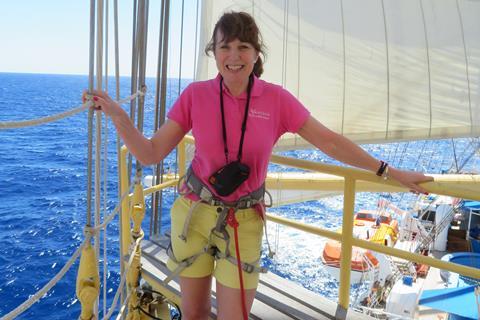 The vagaries of being so far out to sea, and completely in the hands of Mother Nature, mean passengers have to be prepared to literally go with the flow. Seasickness can strike, so those who are prone should come prepared, albeit the ship has an onboard doctor who dispenses free tablets with - I was reliably informed - miraculous curative properties. Similarly, even the most simple of itineraries can change and our one planned stop in the Azores was abandoned due to bad weather around the Portuguese archipelago so we sailed straight to Lisbon. Any initial disappointment was rapidly offset by the captain's complimentary cocktail party to make amends and we merrily chinked glasses of rum punch in the al fresco bar and attributed any staggering to the brewing force 8 gale.
When we finally arrived in Lisbon, the magnificent sight of the Royal Clipper drew an admiring crowd on the dockside, which included passengers from two large cruise ships docked alongside. Thinking we had probably come from a nearby harbour they were agog to learn we had crossed the Atlantic.
It was strange to be back on terra firma after so long at sea, and I took several days to regain my 'land legs'. But it was a small price to pay for such a thrilling and unique tall ship adventure.
Book it
There are transatlantic crossings between Europe and the Caribbean on Royal Clipper and the 170-passenger Star Flyer. The next 15-night Las Palmas to Barbados crossing on Star Flyer departs on 8th November. The 16-night Lisbon to Bridgetown passage on Royal Clipper departs on 31st October 2019 and the 16-night return sailing between the same ports departs on 4th April 2020. Fares include all meals and snacks.
Star Clippers offers exclusive group rates on cruise only fares, enabling GTOs to tailor-make and package the sailing best suited your group's needs, and the line offers one free place per 15 paying passengers - to a maximum of two free places – plus a complimentary private cocktail party.