The Channel Tunnel may have been linking the UK to mainland Europe for 27 years, but there still seems to be some confusion about which is which. Look no further…
Sometimes it's easy to take for granted how lucky we are to have the Channel Tunnel. It revolutionised access to the Continent back in 1994 and yet, despite being an essential link for tourists and business, some still get confused between the two popular train services that use it.
Not sure of the differences between Eurotunnel Le Shuttle and Eurostar, or how to choose between the two? It really depends on where you want to go and how you want to travel. Below, some of the myths are cleared up so you will always know what's what:
Are Eurotunnel Le Shuttle & Eurostar the same company?
No - Eurostar uses Eurotunnel's tunnel, and is one of their biggest customers. And did you know that the Channel Tunnel is the longest undersea tunnel in the world at 38km long?
Where can I board?
Eurotunnel's UK boarding point is in Folkestone, Kent.
Eurostar currently runs from St Pancras International, London.
Where can I go?
Eurotunnel Le Shuttle runs solely between Folkestone and Calais.
The main Eurostar routes go to Paris, Brussels and Amsterdam, with some seasonal routes and connections across France, Belgium, Holland and Germany.
By foot or by vehicle?
Travelling on foot is great if you're visiting a busy city for the weekend, but driving might be more suitable for a longer trip and allows for greater baggage allowances.
Eurotunnel Le Shuttle carries freight and all forms of vehicle, including cars, motorbikes, campervans, caravans and more importantly for groups, coaches. You cannot travel as a foot passenger on Eurotunnel, therefore GTOs can book their preferred coach operator for the whole duration of the European excursion.
Eurostar trains are for foot passengers only, so are ideal for keen walking groups that might want to see some of Europe's top sites on the go.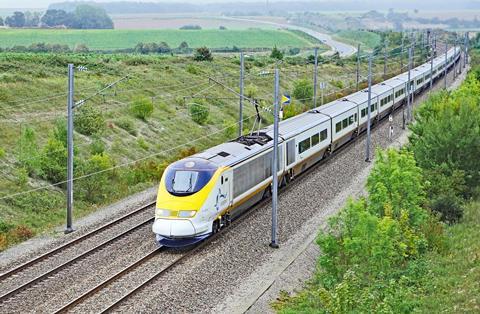 For groups
Opting to travel by coach on the Eurotunnel Le Shuttle is very simple. Having passed through Check-in, coaches must proceed to the parking area for high vehicles adjacent to the terminal building for exit checks to be completed. Groups can then visit the Passenger Terminal Building which includes restaurants, cafés, shops and a bureau de change.

When the departure is called coaches proceed through the security and border control area to the allocation area. Drivers should follow the green arrows and directions given by staff to the platform and then onto the shuttle when directed by a member of train crew.
If choosing the Eurostar, the team can offer discounted tickets, and entire coach hires to make the journey more exclusive. You can also drop all bags off at least 90 minutes before departure, and collect them after the journey, plus order your group meals in advance so you can sit back, relax while everything is handled for you. Extras such as wine and champagne can also be pre ordered.
Journey length
Eurotunnel takes 35 minutes between Folkestone and Calais.
Eurostar takes approximately two and a half hours to reach Paris from London.
Frequency
Eurotunnel currently runs two to three shuttle departures per hour, which is likely to increase to four in the summer. The busiest day of 2022 so far was 19th February, on which 8,500 passenger vehicles were transported on Le Shuttle.
Eurostar currently runs a service from London every one to one and a half hours.