Sit back and relax with your group on these eight scenic railways, offering views of some of the most beautiful areas across England, Scotland and Wales.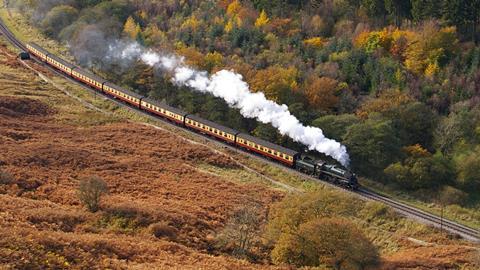 From famous lines that have featured in the likes of the Harry Potter films, to areas made popular by the Bronte sisters and many other railways that will simply transport you through beautiful landscapes, these trips all offer their own amazing views.
1. To see the vistas of the North York Moors National Park, look no further than an excursion with the North Yorkshire Moors Railway. A particular highlight includes the iconic station of Goathland, which some may recognise as Hogsmeade Station in the first Harry Potter film. Other noteworthy attractions that can be enjoyed along the railway include Whitby, with its narrow streets and bustling harbour, and the 1930s themed Pickering Station.
2. From the first views of the waterfall plunging into the gorge below at the start of the journey, to the sights over the sheer edge of Rocky Valley, a journey on the Snowdon Mountain Railway will provide you with panoramas across Wales and down to the valleys below when you reach the summit.
3. If it is the mid-Wales countryside you're after, then the Welshpool & Llanfair Railway should do the trick nicely, providing you with an opportunity to enjoy an exciting eight mile journey from the comfort of your seat, or from the open balconies, through the challenging landscape.
4. Originally built to service the local mill trades in the late 19th century, the Keighley & Worth Railway is only five miles long, but the Bronte countryside it runs through still offers plenty to see along the way. Look out at the beautiful landscape that was made famous in the Bronte sisters' books and was the film location for The Railway Children.
5. Down in Devon, the Seaton Tramway operates narrow gauge heritage trams between Seaton, Colyford and Colyton, taking in views of the River Axe estuary and travelling through two nature reserves, each home to an abundance of wading birdlife.
6. From its vintage trams, to its period street, and the breath-taking views of the surrounding Derbyshire countryside, the Crich Tramway Village offers an array of different sights for visiting groups. From taking in the street scenes, to heading to the Glory Mine picnic area for views over the Amber Valley, you'll find yourself struggling to decide where to look next.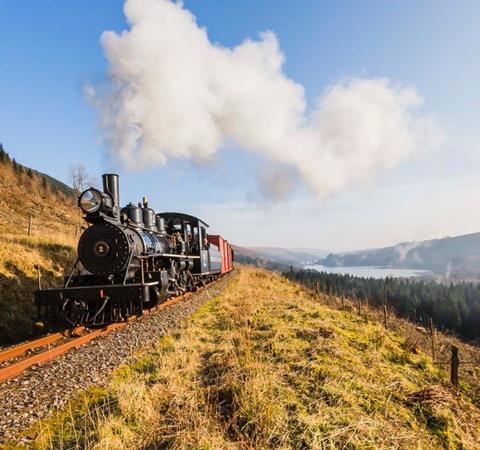 7. Back in Wales again, but this time in the Brecon Beacons, the Brecon Mountain Railway combines the sounds of days gone by with vistas of the Welsh mountain range, as you travel behind a vintage steam locomotive and climb up to Torpantau.
8. Up in Scotland, a journey on the Jacobite will take you past a number of spectacular natural, and manmade, attractions. The railway begins near the highest mountain in Britain, Ben Nevis, and along its way the train will cross the Glenfinnan viaduct. Fans of Harry Potter will recognise the crossing, which featured in the films, and the train will pause on the viaduct, time permitting, to allow you to take in the magnificent view that stretches out before you