We've scoured the UK for some of the top zip wires for groups looking for a bit more adventure, from the longest zip line in Europe to the ultimate challenge for adrenaline junkies.
1: Zip Now – Southbank, London
Due to reopen in June for a third consecutive year, Zip Now claims to be the largest, fastest, city centre zip line in the world.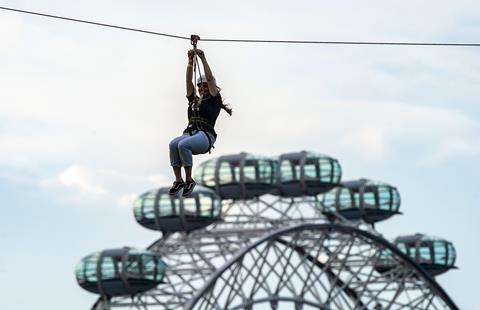 This year, a fourth wire has been added at London's Southbank, allowing at least four members of your group the chance of taking the leap of faith together while admiring London's skyline. Nearly 43,000 people braved the drop last year, will your group be next?
2: Tree Top Trek – Heaton Park, Manchester
Suspended at least 15 metres above the ground, the Tree Top Trek will be a relatively tough task to endure. With 23 obstacles between you and the finish line, not to mention the 15 zip lines included, this action-packed visit is worth trying. The group-friendly trek takes 2-3 hours to complete, ensuring that you and your peers will be pushed to the limit.
3: PierZip – Bournemouth Pier, Dorset
PierZip is the world's first pier to shore zip line with 250 metres of wire to fly down. You'll begin your journey at the back of Bournemouth Pier, 25 metres above sea level. From there, it's a quick burst across the pier before soaring across the ocean on your way down to the beach. The dual zip allows you and one other member of your group to race to the shore. Groups of 10 or more receive discounted entry.
4: Zip World – Bethesda, North Wales
The fastest and longest zip line in Europe awaits at Penrhyn Quarry in Wales. Velocity 2 is certainly for the bravest of visitors. Reaching speeds of more than 100mph on its 1555 metre line, the zip wire will take you across what was the largest slate quarry in the world, offering incredible views along the way. The bigger the group the more money you save; those with more than 36 people receive a considerable discount.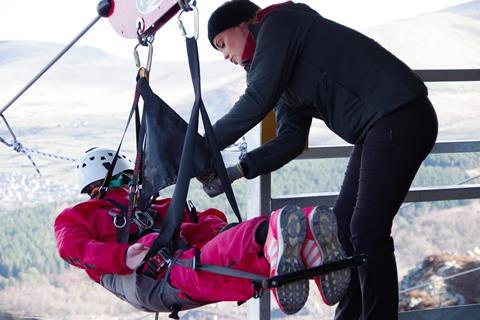 5: Conkers – Swadlincote, Derbyshire
This adventure park provides visitors with a range of activities, such as canoeing, a 4D cinema and of course, its 110-metre-high zip line. The 15 obstacle high ropes course ends with the zip line, concluding the ultimate challenge in style. Groups looking to explore the park and its high ropes are always welcome, inviting coaches and the option of adding lunch and light snacks to your itinerary.
6: Treerunners – Andover, Hampshire
Treerunners is a unique experience, giving guests the option of a junior and adult obstacle course, promising nothing but fun for everyone. Set within an oak forest, the course uses zip lines, Tarzan swings and oddly, snowboards to form a path between the trees. Groups arriving at the site can relax in the reception area, overlooking what's to come from the quaint area.