From music-themed visits to hilarious comedy sketches, here are five dining experiences which are sure to give your group a meal to remember.
1. Mamma Mia The Party!
Mamma Mia The Party! (pictured above) transports guests to the island of Skopelos from London's O2 Arena to dance, dine and have the time of their life to the iconic hits from ABBA's repertoire. Having picked up Best Group Dining Experience at the 2022 Group Leisure & Travel Awards, groups can enjoy a traditional Greek four-course meal while following the story of Nikos, Kate, Adam and Konstantina as they navigate family life in the taverna, all as the sun sets over the Mediterranean. After the meal, which can include confit lamb and lemon cake, dance the night away at a glittering ABBA disco.
2. Hard Rock Cafe
The original Hard Rock Cafe was opened in 1971 by Americans Isaac Tigrett and Peter Morton on London's Old Park Lane, but since then, the chain has grown across the world, mixing classic American cuisine with unbeatable rock 'n' roll memorabilia.
In the UK, diners can choose from three London venues, along with one in Manchester and the newest of the lot in Newcastle. Once groups have tasted the Original Legendary® Burger which encompasses a fresh steak burger, Applewood bacon, Tillamook® cheddar cheese and a crispy onion ring, visitors can browse the rare items on display before kitting themselves out with the latest merchandise from the Rock Shop.
3. Karen's Diner
Karen's Diner is an interactive, and slightly absurd experience which isn't for the faint hearted. At Karen's, you will be greeted, waited upon and will play a variety of games… the catch? Every member of staff is completely rude, unhelpful and will do just about anything to make the experience as memorable, but awkward as possible.
Jumping on the craze that people with the name Karen are stereotypically entitled or demanding, staff do their best impressions, although visitors who are actually called Karen can claim a free drink. With restaurants in Birmingham, Manchester and Sheffield, and another to open in London, groups can expect hand-crafted burgers and hilarious, improvised interactions.
4. Faulty Towers The Dining Experience
Fans of BBC sitcom Fawlty Towers can take part in a two-hour interactive dining experience in which the beloved characters host visitors for a meal at the President Hotel in London. Diners can expect all the usual antics from Basil, Sybil and Manuel as the mayhem, in which the TV show was known for, ensues in front of their eyes. Over 70% of each performance is improvised, across two hours of a non-stop laughter and a delicious three-course meal. If you end up getting your meal on time following all the commotion, dishes include seared chicken and butternut squash soup.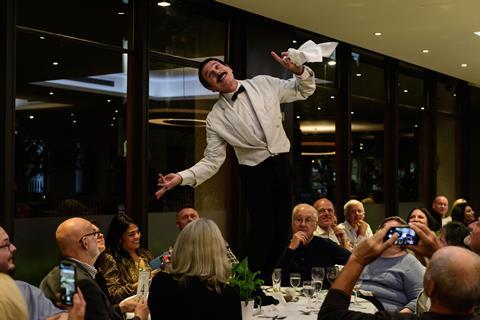 5. Jungle Cave
Have you ever wondered what it might be like to eat a meal in the Amazon rainforest? Set in the heart of the West End at London's Piccadilly Circus, you can dine with a family of elephants, a group of gorillas, butterflies and even a crocodile, well, mechanical versions of course!
Visitors to Jungle Cave can immerse themselves in the sights and sounds of the Amazon rainforest, complete with auditory and visual effects such as periodic thunderstorms and live waterworks, along with the animals found in the region. Main courses include the jungle hot dog or coconut fried shrimp, while dessert options range from chocolate fudge cake to apple crumble.