We take a look at some of the most stunning gardens across the UK, from historic estates to incredible restorations - and plenty in between.
1. Hestercombe, Somerset
Known for its collection of gardens which span three centuries of history and design, Hestercombe (pictured above) provides a tranquil setting to explore and relax. Its Edwardian Formal Garden is said to be one of the finest examples of the partnership between garden designers Gertrude Jekyll and architect Sir Edwin Lutyens, with group tours of all sizes welcome.
2. The Lost Gardens of Heligan, Cornwall
Heligan is described as one of the most loved and romantic gardens in the UK, appreciated as much for its beauty and mystery, as for the ground-breaking restoration. Visitors can be enthralled on a guided tour of the iconic gardens or create their very own adventure through 200 acres, plus its seasonal events offer an array of interests for all.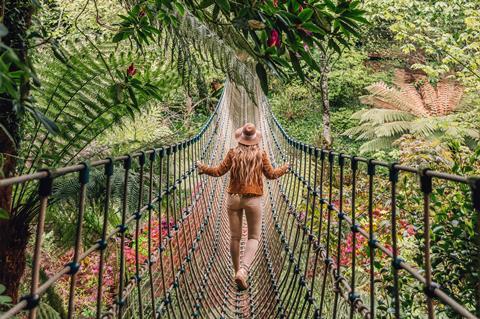 Add extra value to your group visits with catering vouchers and discounted guide books which can be included on request. Plus, enjoy discounted group rates for entry within general garden opening times throughout the year.
Where are your favourite gardens to visit?
Tell us in the comments section at the bottom of this feature - we love to hear from you.
3. Sir Harold Hillier Gardens, Hampshire
The arboretum, situated in Ampfield just outside Romsey, covers some 180 acres and accommodates over 42,000 trees and shrubs – most notably a wonderful collection of oaks, camellia, magnolia and rhododendron. The site is especially beautiful in the autumn when the leaves begin to change colour into vivid shades of red, orange and yellow.
The Sir Harold Hillier Gardens recently unveiled a restaurant, which is part of a new project focussing on the future of gardening in a changing world. Garden designer, Tom Stuart-Smith will be leading the creation of a 'frontier garden' featuring plants described as 'at the limits of outdoor conditions in the British Isles'.
4. Sculpture by the Lake, Dorset
Set across 26 acres near Dorchester, alongside Dorset's Site of Special Scientific Interest (SSSI) River Frome, there are three large lakes, several small ponds, spring-fed streams, meandering woodland paths, as well as more formal gardens and a large kitchen garden.
First opened in 2011, the park and gardens were created by sculptor Simon Gudgeon and his horticulturist wife, Monique. Starting with a completely blank canvas, the couple have planted over 4,500 trees, shrubs and perennials, placing sculptures and creating art installations among the trees and planted areas. Recently added trees include sweet chestnut, dawn redwoods, swamp maples, a cedar of the Lebanon and multiple eucalyptus in addition to 460 silver birch trees in a peaceful waterside glade.
5. Leonardslee Lakes & Gardens, Sussex
The gardens were lost for ten years, having become overgrown and derelict, but in 2019 its gates were opened once more after a restoration project to bring the grounds back to their former glory. Visitors to the Grade I-listed site near Horsham can opt for a pre-bookable guided tour, which helps bring its history to life.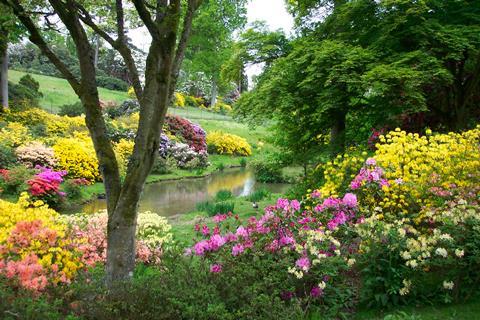 Free familiarisation visits for group travel organisers can also be arranged with the help of a bookings coordinator for those planning to bring more than ten people back with them.
6. Wentworth Woodhouse, South Yorkshire
Ancient trees, shaded woodland copses and 18th century follies await groups within the grounds of Wentworth Woodhouse, with guided tour options available and an easy coach drop-off point with free parking. If opting for a self-guided visit, you can follow the visitor's route which begins at the Stables and takes in the West Terrace, before incorporating the views from the Ha-Ha and South Terrace, as well as the Ionic Temple and Camellia House.
7. RHS Bridgewater, Manchester
All of the gardens looked after by the Royal Horticultural Society are beautiful, be it Wisley in Surrey or Harlow Carr in Yorkshire, but its newest edition, RHS Bridgewater is particularly special. Described as one of the biggest gardening projects in Europe, the 154-acre site at Worsley New Hall in Salford has many highlights including the 11-acre Weston Walled Garden, the centrepiece of the attraction.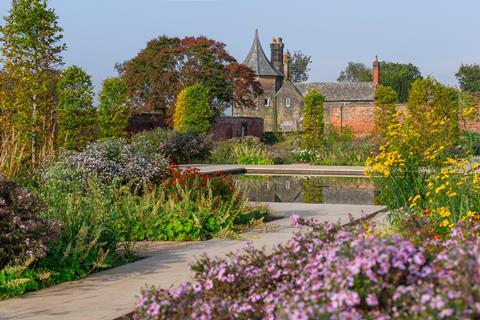 The Paradise Garden by Tom Stuart-Smith, showcasing exotic planting inspired by Asiatic and Mediterranean gardens, is another must-see. Pre-bookable tours for groups can really bring the attraction to life, with an expert pointing out key highlights.
8. Anglesey Abbey, Cambridgeshire
After purchasing the estate in the 1920s, Lord Fairhaven gradually transformed the gardens at Anglesey Abbey into the beautiful seasonal display seen today. The garden is designed around his personal tastes, with something to show for each season.
It continues to follow the pattern to this day, with 114 acres offering something around every corner. In the summer the Rose Garden is home to many different colours and scents, while in the autumn the Dahlia Garden provides 70 varieties of blooms which offer a truly colourful experience.
9. The Royal Botanic Gardens, Kew
There's always something new to discover at this UNESCO World Heritage site with more than 50,000 living plants to be found. Whether it's exploring the remarkable indoor rainforest in the Palm House, taking a trip through the glassy wonderland of the Princess of Wales Conservatory, or enjoying the Rock Garden, there's something for all interests.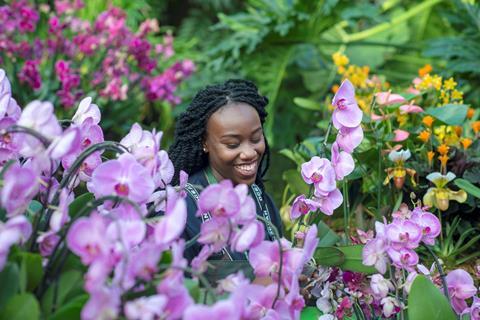 Groups can also hop aboard two new land trains, the Kew Explorers, with on board live commentary to reach some of the further-flung corners of the gardens.
10. Wrest Park, Bedfordshire
The estate has more than 90 acres to explore and offers visitors the chance to discover the evolution of the English garden. With three centuries of landscape design showcasing a range of styles, there's lots of inspiration to take away from a visit. The English Heritage site is also home to the formal Long Water walk which leads to the spectacular Archer Pavilion – a real focal point. Keep an eye out for the many historic statues dotted around the grounds, too.
11. Hereford Cathedral
The historic Chapter House Garden nestles among medieval ruins while the Cloister and Chapter gardens illustrate pre-Reformation social and culinary lifestyles. Spring bulbs carpet lawns under ancient trees in the majestic Bishop's Palace, and roses fill the air with the scent of summer in the secluded College Garden.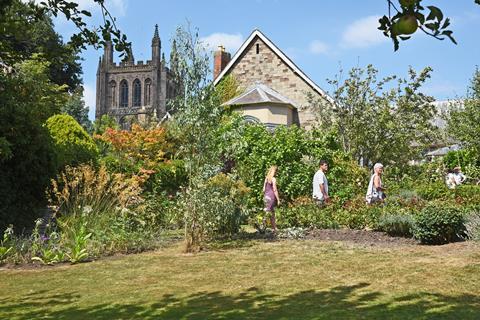 Other highlights include plants reflecting ecclesiastical themes in the College Garden, with beautiful views of the River Wye and the medieval bridge, as well as varied examples of specimen trees, providing glorious autumnal colour in the Bishop's Garden private garden tours, which last between 60 and 90 minutes and are available for booked groups throughout the year.
12. Chatsworth House, Derbyshire
Although the house boasts stunning interiors for visitors to gaze over, its 105 acres of grounds are just as special thanks to nearly 500 years of careful upkeep and improvements. The Arcadia Project, which completed last year, means that in addition to old classics, such as the 300-year-old Cascade and the Willow Tree Fountain, there are now 250,000 new perennials, shrubs and trees to see on a visit, along with other improvements to enhance the space.